Dracula 3000
(2004)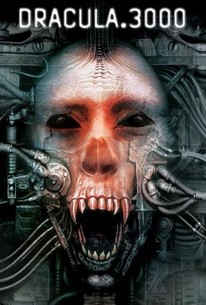 AUDIENCE SCORE
Critic Consensus: No consensus yet.
Movie Info
The undead discover a new home in the far reaches of space in this blend of science fiction, action, and horror. In the year 3000 A.D., the crew of a commercial space freighter happens upon the wreckage of the Demeter, a massive space ship that has been missing for nearly a century. Aware that there's a substantial bounty being offered for the return of the ship's cargo, the freighter's crew begin exploring the Demeter to see what remains, and they discover that the ship's hold includes a large cache of black coffins. However, the real surprise lurks inside the coffins -- a gang of vampires, taking advantage of the darkness of deep space, have taken refuge in the Demeter's payload, and they soon begin attacking those who have discovered them. Can the freighter's crew keep the menace at bay until the ship's orbit takes them into the path of the sun? Dracula.3000 includes a stellar exploitation cast, including Casper Van Dien, Erika Eleniak, Coolio, Tommy "Tiny" Lister Jr., and a special guest appearance from Udo Kier.
Critic Reviews for Dracula 3000
All Critics (3) | Fresh (0) | Rotten (3)
Aside from the ridiculous plot... and terrible dialogue, the acting is wooden (even from these "actors") and the action is non-existent.
Don't even get me started on a movie that allows Tiny Lister to deliver 75% of all spoken dialogue.
This movie's one Ice-T or Dean Cain short of being a direct-to-video all-star parade.
Audience Reviews for Dracula 3000
No amount of cool cover art will save this nonsensical God-awful garbage.
This should be creepy I thought.
Dracula 3000 Quotes
There are no approved quotes yet for this movie.