Dracula 3D
(2013)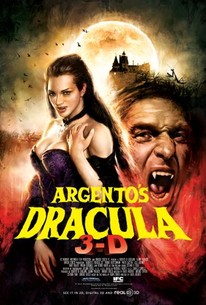 Movie Info
Horror master Dario Argento returns with a bloody, luridly creepy 3D version of the classic vampire tale, drenched in gore and sex. An unsuspecting Englishman arrives in Transylvania, lured by a job with a local nobleman. But the undead Count Dracula's real target is the man's innocent young wife. Featuring the iconic Rutger Hauer as vampire hunter Van Helsing and the inimitable Asia Argento (the director's own daughter) as a local all-too-eager to fall under the Count's sway. (c) IFC Midnight
Critic Reviews for Dracula 3D
Audience Reviews for Dracula 3D
Last year in my "Worst of 2012" blog I mentioned Dracula 3D, but only wrote a single sentence on it. So why review it now? Well my local (evil) movie theater is showing it and somebody has to write something on this unknown "horror". Just like "Spiders 3D" and "Texas Chainsaw 3D" this yet again marks another poor utilization of 3D. Dracula 3D started with a screen text that claim its "significantly important". Yes, because any movie that has Dracula turning into a wolf, an owl, dozen of flies, and giant praying mantis (picture at the end) without explanation is very "important". This is the kind of "significant" horror film that only amateur Dario Argento could make...wait. According to his resume Argento is responsible for the original "Dawn of the Dead" and "Suspiria" which are both consider horror classics. Huh? Guess that makes this failure even more embarrassing given the director is a veteran of the film industry and the horror genre. So in terms of plot it does nothing new with the familiar Dracula mythos which at this point has been done death. It's about as interesting as watching a snail paint a wall and then watching it dry. It's generic storytelling at it most dull made even worse in eye drowsy 3D! For starter things are too bright! The lightning makes it difficult to see anything with 3D glasses. It falls victim to using the usual gimmicks of 3D that annoy us. What makes matter worse is the fact that director Argento made it impossible at times for the viewer to focus on a scene when the shot itself lacks focus. Another thing is the nudity serves no purpose. You can't enjoy the nudity either in 3D for the director has filmed his daughter naked. I haven't felt this wrong seeing a naked woman since "Butterfly" (1981) and I hated the living essence of that film. Though to Dracula 3D credit, it's nowhere as awful as "Butterfly" (1981). Some highlight includes Dracula killing people with his finger nails, rare cheesy acting, and the giant praying mantis. Also, in what novel does Dracula has the ability to teleport, mind control, and also telekinesis. The "action" scenes that last seconds (the longest almost reaching 10) here are more poorly choreograph than a Steven Seagal fight scene. The acting is all around awful. The 3D is useless making it you more sleepy than invested. This puts no creativity on a tire story that has been told dozens of better times. The worst offender being it's the worst kind of bad movie; the ones feel like a chore to finish. [IMG]https://sphotos-a.xx.fbcdn.net/hphotos-ash4/483813_356361034480831_1884420032_n.jpg[/IMG]
Caesar Mendez
Super Reviewer
½
Dario Argento is one of the most electrifying directors in horror. Over the course of his career, he has made some stunning pictures that have remained genre classics. His style is unique, and he managed to bring such a creepy tone and atmosphere to his films that have made him standout among others in the genre. However in the last decade, he started to lose his touch, and that could be said about his latest directorial effort, Dracula 3D, which has the look of a low-budget, straight to DVD feature. That's not saying much. This is a painful movie to watch, and it is also a waste of a pretty good cast. Thomas Kretschmann is usually a pretty actor, and he's made some great films, however in the role of Dracula, he tries to elevate the lacking material to no avail. Rutger Hauer who I find to be fairly hit and miss depending on the part just doesn't cut it. Now the thing has bugged many viewers about this film is the laughable CGI. The effects are cheaply done and it's clear that there was no effort put into making that looks good. This effort is just lazy, and I think it's a great shame because Dario Argento was once a great director. I can't believe the man who directed Suspiria, Phenomena, Opera and Deep Red is the same guy that directed this crap. Dracula could have been a very good movie, if the script would have been polished, the budget was bigger, to at least make the effects look good, instead of making them look cheap. If you're a diehard Dario Argento fan like I am, you'll be very disappointed with what's displayed on-screen. I think that this is one of the biggest disappointments that Dario Argento has directed, and the only thing that this movie proves is that this once great director has lost his touch, and with each film that he directs nowadays, the quality suffers and he makes movies that don't even come close to what he used to make in heyday.
Released in 3D in Italian cinemas, Argento's 'Dracula' is quietly hitting DVD and Blu-Ray shelves in most other parts of the world. Closely following the plot of the novel, Jonathan Harker (Ugalde), is summoned to the home of Count Dracula (Kretschmann) to oversee a real estate transaction. Once there he is attacked by the Count and a horny, and exceptionally busty, female vampire (the novel had three but I guess the budget didn't stretch that far). Harker's wife Mina (Gastini), it turns out, is the reincarnation of a former lover of Dracula. To combat all this blood-sucking madness, renowned vampire hunter Van Helsing (Hauer) must employ his unique skills. Some directors, especially those involved in the horror genre, just don't age well, producing one "Oh Granddad!" moment after another. There's none more guilty of this than Argento. I can't think of another film-maker whose career provides such contrasting quality from his early work to his recent turkeys. His last two films ('Mother of Tears' and 'Giallo') scaled new levels of ineptitude yet somehow he's managed to reach yet another nadir with his latest. Argento has sadly become a director whose work only a mater suspiriorum could love. The story stays relatively faithful to the original Stoker text but, on practically every level, this is an absolute travesty. Shot on the cheapest looking digital format and employing matte paintings that seem to have been composed by a child, visually the film resembles those BBC children's productions from the seventies, but with neither the charm nor the excuses of that era. The CG on display here would look dated in an early nineties PC game, never mind a 2013 release. The terrible dialogue, combined with atrocious dubbing, makes competent actors like Hauer and Kretschmann look like idiots. It pains me to slate a once great talent, the man who gave us nightmares with genre classics like 'Suspiria' and 'Profondo Rosso', but please Dario, retire. Oh Granddad!
The Movie Waffler
Super Reviewer
Dracula 3D Quotes
There are no approved quotes yet for this movie.