Dracula A.D. 1972
(1972)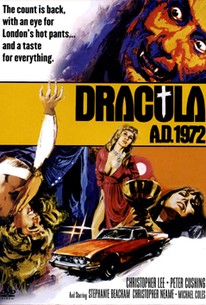 Movie Info
Hammer Studios attempted to inject new blood into their Dracula series by setting their next installment in ultra-mod '70s London, where the Count is revived after 100 years by a gang of devil-worshipping swingers led by the not-so-cleverly-named Johnny Alucard (Christopher Neame), and later joined by Jessica (Stephanie Beacham), granddaughter of the legendary vampire hunter Dr. Van Helsing (Peter Cushing, returning to the role after more than a decade). After the group manages to resurrect the Count, he sets about the task of destroying the house of Van Helsing once and forever, leading to a battle in a de-sanctified cathedral. Despite some well-staged scenes, a thrilling prologue (involving a tense battle between Lee and Cushing aboard a runaway coach) and the presence of the stunning Caroline Munro, this is definitely one of the weaker entries in the series, and the script gives Lee very little to do with the hissing, red-eyed villain. Lee may have been bored with reprising the role altogether, as he would only return for one more sequel, The Satanic Rites of Dracula. ~ Cavett Binion, Rovi
Critic Reviews for Dracula A.D. 1972
Audience Reviews for Dracula A.D. 1972
½
Actually a pretty good vampire movie for a movie with the year in the title. Lee is brilliant as Dracula as usual, even if the rest of the cast is bad. It's not great, but I enjoyed it.
If nothing else, Dracula A.D. 1972 will prove that Hammer was on its way out and its best days were behind it. Unfortunately, this movie isn't much more than gimmicky fodder for some MST3K-styled razzing. Christopher Lee is barely passable despite the fact that he helped define the role of Dracula and Peter Cushing almost seems age inappropriate in his role once he goes into vampire hunting mode. There's plenty of foxiness to drool over but if these guys are supposed to be teenagers I'm supposed to be Jesus' understudy. The blatantly modern setting (which I understand is supposed to be the point) makes Dracula A.D. 1972 not feel like a Hammer movie. Some effects were neat, but since when the hell can you kill a vampire with regular, tap, non-holy water?
Michael Gildea
Super Reviewer
I don't know what all the fuss is about here. People seem to really loathe this entry, but I really dig this update of the Hammer Dracula series and I think it was about time some fresh ideas were thrown in there. Yeah, there's that cheesy 70's jazz soundtrack, but it adds a lot of charm and sets it beautifully in the era in which it was produced. I particularly enjoyed a lot of the camera work and angles by Dick Bush. I'm actually shocked it got made at all, to be honest. It's so over-the-top and modernized, I can't believe that Cushing and Lee had anything to do with it. Though, in those days, these men were working actors, so I guess I shouldn't be too surprised. Not that that detracts from the film - it's just a marvelous and crazy film that most people hate but I particularly enjoyed it.
Tim Salmons
Super Reviewer
Dracula A.D. 1972 Quotes
There are no approved quotes yet for this movie.