Dracula Has Risen From the Grave
(1969)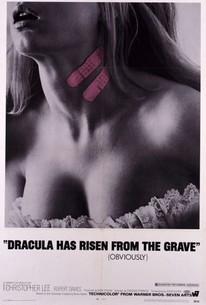 Dracula Has Risen From the Grave Photos
Movie Info
When a young girl is found hanging in the local church with fang marks in her neck, the townsfolk immediately suspect Dracula (Christopher Lee) is behind the evil deed. Although he has supposedly been dead for quite some time, the vile vampire is the prime suspect. The Monsignor (Rupert Davies) is called in to exorcise the local castle where Dracula once lived. The diabolical Dracula forces the holy man's assistant to help him in his thirst for blood. His next victim is the Monsignor's niece, who works at the local pub. The prince of darkness meets his demise when he is impaled on a crucifix -- at least until he can find another script that he and his agent can agree on.
Critic Reviews for Dracula Has Risen From the Grave
Audience Reviews for Dracula Has Risen From the Grave
½
This is the third (fourth if you count Brides of Dracula) film in Hammer's series of films concerning pop culture's most famous bloodsucker. Until now, I had never watched a Hammer film in its entirety, though I'd seen many clips and did lots of reading about them. Obviously I'm seeing this one out of order, but I don't really feel like it matters too much. What Hammer is noticeable for, especially with their takes on the Universal Monsters was that they were in color, featured lots of blood, and also, lots of cleavage. They're a little tame by today's standards, but they're still pretty awesome. Also, something I love are the gothic aesthetics on displays with the sets, costumes, and overall art direction. The story here concerns Dracula being resurrected and using religious figures to try to capture the heart of a lovely young lass. The film gets off to a great start, from its fun and campy title to the opening scene in which a corpse is found stuffed in the belfry of a church The only problem with the opening scene is that unfortuantely it doesn't work with the rest of the story. Yeah, it's a great shock moment, and it sets the tone nicely, but it doesn't make sense in the context of what happens after. From there though, it takes a break from Dracula himself and focuses on the humans and Dracula's human puppets, but the man himself does come around from time to time, and after things really get cooking they culminate in a great climax that includes a staking gone wrong, a nice little chase, and a final showdown at Dracula's castle door. Here's the deal: this is a fun movie, and it is entertaining, but it's a tad slow, and there could have been more of Dracula. When he's on screen though, things are great. I did enjoy how this film tweaked the traditional story and character and did its own thing, because it at least came off as respectful and not too ridiculous. Plus, I have this odd thing for religious folk and vampires. They make a good combo. The music is good, the atmosphere and tone are suitably dark and gloomy, and Lee is just a delight as Dracula, and his interpretation is one of the best. The rest of the cast is okay, but not really all that memorable. Overall, this is a decent enough little horror film, and should be satisfying for most people, especially the ones who don't need to have an overload of gore like 21st century movies offer, and can appreciate the gothicness of it all.
Chris Weber
Super Reviewer
½
Sporting the ultra camp title - "Dracula Has Risen From the Grave", this is a solid entry in Hammer's Dracula series. What I love about Hammer is that they aren't afraid to take an existing story and play around with it to create something new. Even if the idea behind is less than brilliant and most studios would have shied away, Hammer approach it with gusto, and the results are always good natured, easy viewing that's hard to dislike. This film follows Count Dracula as he is resurrected shortly after the priest, Ernst Muller, exorcises his castle. Dracula doesn't take this sort of behaviour lightly, and so decides to take on revenge on the holy man - by taking his niece as his bride! Dracula is one of the greatest characters ever to be written and portrayed on screen, and it's also one that Christopher Lee has become famous for playing. Unfortunately, Christopher Lee doesn't have a great deal of screen time in this flick; but every moment he is on screen is a highlight and, as usual, he does well with the role and proves that he is the only man other than Bela Lugosi to do it right. Freddie Francis (Dr Terror, The Creeping Flesh) directs this film and succeeds in creating a morbid and fascinating atmosphere that bodes well with the subject material on hand. The film is stylishly shot, and features some of the best use of lighting ever seen in a Hammer film. The camp style that the studio is famous for is here by the bucket load too, and that can only be a good thing. This is hardly Hammer's finest hour, however; the film is relatively slow to start, and the story isn't the most inventive ever to come from the studio - but Hammer fans will enjoy it, and I would have no qualms with recommending this as a decent waste of your time.
Cassandra Maples
Super Reviewer
Not my favorite of the Hammer Dracula series, but not anywhere near unworthy. I love how they play with the landscape, the colors and the matte paintings as well as the other opticals. Storywise, it's pretty boring most of the way through.
Tim Salmons
Super Reviewer
Dracula Has Risen From the Grave Quotes
There are no approved quotes yet for this movie.