Dracula's Daughter
(1936)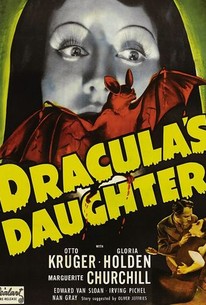 Dracula's Daughter Photos
Movie Info
A hypnotic woman steals the body of Count Dracula, and bloodless corpses start appearing in London again.
Critic Reviews for Dracula's Daughter
Audience Reviews for Dracula's Daughter
An average horror movie, not very scary at all, I mean she isn't even really Dracula's daughter. It does have a couple of good scenes, but other than that it's just okay.
Dracula's Daughter is a blatant cash in on the success of the original Dracula film. Dracula's Daughter learns of her father's death and seems to seek a way out of the vampire's curse, yet doesn't really try that hard. The film will keep your interest, but that's about it.
Chris Garman
Super Reviewer
Picking up exactly where DRACULA (1931) left off, this sequel has Drac's "daughter" seeking to liberate herself from the curse of vampirism by seeking the help of a psychotherapist. Some interesting twists (Countess Zaleska is both the first tragic vampire and the first openly bisexual vampire), but matter-of-fact vampiress Gloria Holden has none of the sinister charisma of Lugosi.
Dracula's Daughter Quotes
There are no approved quotes yet for this movie.