Drag Me to Hell
(2009)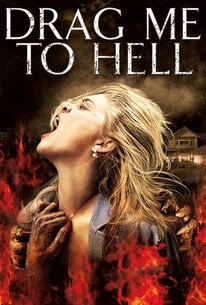 Movie Info
Evil Dead director Sam Raimi takes the helm for this "spook-a-blast" shocker about an ambitious L.A. loan officer who incurs the wrath of a malevolent gypsy by refusing to grant her an extension on her home loan. Determined to impress her boss and get a much-needed promotion at work, Christine Brown (Alison Lohman) lays down the law when mysterious Mrs. Ganush (Lorna Raver) literally comes begging for mercy at her feet. In retaliation for being publicly shamed, Mrs. Ganush places the dreaded curse of the Lamia on her unfortunate target, transforming Christine's life into a waking nightmare. Her skeptical boyfriend, Clay (Justin Long), casually brushing off her disturbing encounters as mere coincidence, Christine attempts to escape eternal damnation by seeking out the aid of seer Rham Jas (Dileep Rao ). But Christine's time is fast running out, and unless she's able to break the curse, she'll be tormented by a demon for three days before literally being dragged to hell. ~ Jason Buchanan, Rovi
Critic Reviews for Drag Me to Hell
Audience Reviews for Drag Me to Hell
If I loved films like I do now about 4 years ago, I would've went ballistic when I saw Sam Raimi at Forbidden Planet for this film's release. However, since I wasn't, I feel gutted that I missed that chance. To be honest I heard mixed views on this film; others were frightened, others didn't find it scary. Lets face it, this is Sam Raimi; the creator of 'The Evil Dead' Trilogy. If you're a film fan, you should know that there is bound to be some comical elements in Raimi's horror films. It's because of this, I enjoyed the film a lot more than I expected. Featuring superb scenes of ridiculous violence, this is highly recommended for Sam Raimi fans. Just one final thing to add: for some reason, the ending made me chuckle.
Samuel Riley
Super Reviewer
½
This marked somewhat of a return to form for Sam Raimi, and, given that it came out after the conclusion of the immense Spider-Man trilogy, it was a nice breath of fresh air, especially since it was a far smaller affair. Christine Brown is a young and determined loan officer on the fast track to success. When she makes a tough decision which results in the eviction of an elderly lady, she finds herself victim to an evil curse, and finds she has only three days to persuade the dark spirit to relent, otherwise she'll be dragged to Hell to be tormented for all eternity. Pretty simple, basic plot, sure, but Raimi gets quite a bit of mileage out of it, and it really is a nice return of sorts to the darkly comedic tongue-in-cheek, horror schlock he cut his teeth on. He employs every kind of trick imaginable, and the result is a pretty fun and slick supernatural coaster ride. However, even though the film has a nice creepy vibe, it mostly relies on jump scares, shock moments, and gross outs instead of pure outright terror. Alison Lohman takes the lead, and she really gets put through the ringer here. She is also to be commended for doing her own stunt work as well. She gives a nice, and backing her up are Justin Long as Christine's supportive boyfriend, Dileep Rao as a spiritual advisor who tries to help her, and Lorna Raver as the old woman who unleashes the curse. She's the real breakout her, and makes for a quite creepy and memorable presence. It's a little tough at first who the audience should sympathize with, but the case is made for each side, and there is some development instead of just being a showcase for effects and directorial flair. It's not really anything more than light fare, but it does have a strong ending, and proves quite entertaining, so give it a shot.
Chris Weber
Super Reviewer
½
[img]http://images.rottentomatoes.com/images/user/icons/icon13.gif[/img] It was made by the director of Spiderman and to be honest I wasn't surprised. It looked a lot like a mainstream horror flick. And I was proved right. Drag Me to Hell is nothing worth remembering, the idea much like the execution was highly average. I enthusiastically anticipated this film though because of the huge amounts of critic's that adored it and gave it nothing but praise. I'd be lying if I didn't say that I yawned a lot, and this was the main problem I had wih it. Not to say it wasn't entertaining at all. If you dont watch a lot of horror movie's and are a member of a mainstream audience im almost certain you'll enjoy it. The acting was absolutely brilliant and there were a couple times when I jumped. But very, very few. Just dont watch it with extremely high expectations like I did. Meh. It was alright, but it was just a bit rubbish.
Directors Cat
Super Reviewer
Drag Me to Hell Quotes
| | |
| --- | --- |
| Christine Brown: | Look! I did what you said! I killed a little kitty! |
| | |
| --- | --- |
| Christine Brown: | I think I better go. |
| Trudy Dalton: | Yes, I think that would be best. |
| | |
| --- | --- |
| Christine Brown: | Okay! I hear you! Leave me alone, just leave me the hell alone! |
| | |
| --- | --- |
| Christine Brown: | I mean, you know how cats are, they come and they go. |