Dragged Across Concrete
(2019)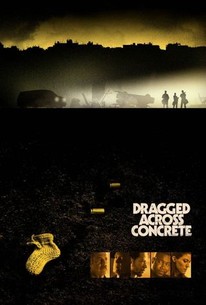 TOMATOMETER
AUDIENCE SCORE
Critic Consensus: As grim and grinding as its title, Dragged Across Concrete opts for slow-burning drama instead of high-speed thrills -- and has just the right cast to make it work.
Dragged Across Concrete Videos
Dragged Across Concrete Photos
Movie Info
DRAGGED ACROSS CONCRETE follows two police detectives who find themselves suspended when a video of their strong-arm tactics is leaked to the media. With little money and no options, the embittered policemen descend into the criminal underworld and find more than they wanted waiting in the shadows.
News & Interviews for Dragged Across Concrete
Critic Reviews for Dragged Across Concrete
Audience Reviews for Dragged Across Concrete
S. Craig Zahler is the real deal when it comes to budding genre auteurs. He's been writing in Hollywood for some time and after numerous un-produced scripts he finally decided to take matters into his own hands. In 2015, he wrote and directed the terrific and terrifically violent western Bone Tomahawk, and then in 2017 he tried his hand at another genre movie, the brutal prison drama, Brawl in Cell Block 99. Now Zahler has hopped to another genre, the more familiar cops-and-robbers crime thriller territory, Dragged Across Concrete. I'll watch anything that Zahler decides is worthy of his precious time, and I was unprepared for how engaging, exciting, and uncomfortable the movie made me. It's still early but I already feel confident this is destined as one of my favorite films of 2019. What separates Zahler from the pack is simply the magnificent manner he can write scenes, building and building, unlocked intriguing character details, building to startling conclusions or everyday relatability given a new, brash context. It's a screenwriting edict that every scene should in essence be its own story, having a beginning, middle, and end, a drive, and if possible a reversal to something unexpected, shedding further examination onto a problem, person, or setting. I was greatly enjoying just watching the various characters talk in their understated, hard-boiled, often funny conversations, which don't feel too self-consciously stylized. It's just damn good writing. Even when they're doing bad things, or mistakes that cost them greatly, Zahler has his characters respond like people and not hip, soulless movie cartoons. There's a reason Concrete is two and a half hours long and that's because Zahler really lets his scenes breathe at their own pace, which can be too languid if it wasn't for how exquisitely written they are, particularly with character details. Each scene sheds a startling non-judgmental spotlight on a different character, some criminal, some corrupt, most struggling to keep their heads above water and provide for family, and you feel the narrative expanding, growing, transforming, and providing the needed space to make these people feel real. Each one of these scenes could be a marvelous short film upon themselves, and sometimes it feels that way with the skipping perspectives. What happens to Jennifer Carpenter's character, a woman beset with anxiety about returning to work after maternity leave, is its own wonderful movie that provides a glimpse into a life and in only five minutes' time. Her reluctance to go back to work, her need to be with her child, the simple, heartfelt plea with a child's sock. It all works in impressive tandem to make this person feel authentic. The same with an exchange between two lifelong friends about a birthday cake and naming dinosaurs, reaching back to ease the current tension. It's insight rarely afforded to characters in a standard heist movie. The actors are all given these artistic arias to work with, and the extra attention to detail brings a depth of dimension that makes them feel fully realized. Zahler has captured recognizable, complicated human beings and placed them in a pulpy genre movie. This is the sort of A-level elevation of B-movie material that is usually the purview of Quentin Tarantino. Because of my general awe with the characterization, Zahler had the added benefit of making the rising dread feel powerfully unnerving. It's major a slow burn of a movie, setting up the various players that will be directly or indirectly involved with the robbery, and that robbery doesn't even hit until well after an hour into the film. Because of that patience, or self-indulgence some will decry, the movie fleshes out all the participants and their various motivations so that the audience feels degrees of sympathy for many people on different sides of the equation. This leads to amazing tension for the last hour. I was tying myself in knots waiting for awful things to happen to characters I found compelling because, frankly, awful things happen easily in Zahler's movie universe. There is a stash of guns in the glove compartment of a getaway van. The first sequence involves the growing tension of characters placing themselves in a vulnerable position by giving up their weapons. Then, as the scene transforms anew, the guns in that compartment become a reminder of an ironic advantage that only one character knows about, and we wait for their retrieval to escalate the danger of the new scenario. That's fabulous writing with organic developments. There are several characters at cross-purposes with little reason to trust one another, and so we wait for that looming explosion of violence fed by mistrust and greed. Zahler understands this and that's why many of the scenes in the last hour follow the writing style, slow burns that hang onto the unease and breathing space. There are several long takes aided by long shots that amplify the gnawing tension, as your eyes scan the screen waiting for the boom. Nate's Grade: A
Nate Zoebl
Super Reviewer
Dragged Across Concrete Quotes
There are no approved quotes yet for this movie.