Dragon Age: Dawn of the Seeker
(2012)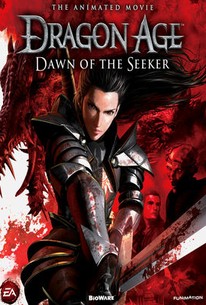 AUDIENCE SCORE
Critic Consensus: No consensus yet.
Movie Info
A tough but beautiful warrior named Cassandra is on a mission to stop the corrupt religious officials who rule her magical island home, who charge her with treason, forcing her to channel her indignant anger into a skillful fight for the soul of her country.
Critic Reviews for Dragon Age: Dawn of the Seeker
All Critics (2) | Fresh (1) | Rotten (1)
I's hard to imagine die-hard Dragon Age fans flocking to this pretty generic fantasy action film for any reason and it's likewise tough to envision general fantasy fans gravitating towards this.
While few newcomers will likely attach to Dragon Age: Dawn of the Seeker, the film provides a real treat for longtime fans of this franchise.
Audience Reviews for Dragon Age: Dawn of the Seeker
Helmed by Japanese director Fumihiko Sori, this tells the swashbuckling story of a young heroine named Cassandra, whose bravery is put to the test, when she is caught between the battling forces of templars, mages and dragons alike. Now, let me start off by saying that I haven't played any of the Dragon Age games, so consider this review the unbiased low-down of someone who is completely unfamiliar with said fantasy realm. Even so, I quite enjoyed this animated adventure. The story is rather formulaic and employs all the standard elements of the genre, with themes of gallantry, betrayal and classic good vs. evil fare. So nothing new there. What makes it worthy of your time though, is the good voice acting and overall well-paced and enjoyable plot. The animation per se, albeit stiff at times and a bit on the budget side, is pretty well-done and agreeable to the eyes. Particularily with its implementation of the technique known as "cell-shading", which was a very nice touch. A decent and straightforward sword-and-sorcery flick, that despite a commonplace setup, entertains, excites and holds your interest throughout. So not to worry if you're a stranger to the Dragon Age games, because this is accessible to anyone with a taste for adventure!
Dragon Age: Dawn of the Seeker Quotes
There are no approved quotes yet for this movie.