Dragon Ball Z: Resurrection 'F'
(2015)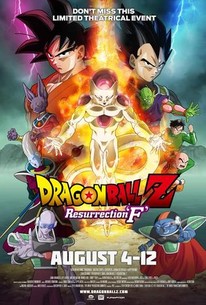 Dragon Ball Z: Resurrection 'F' Photos
Movie Info
Even the complete obliteration of his physical form can't stop the galaxy's most evil overlord. After years in spiritual purgatory, Frieza has been resurrected and plans to take his revenge on the Z-Fighters of Earth. Facing off against Frieza's powerful new form, and his army of 1,000 soldiers, Goku and Vegeta must reach new levels of strength in order to protect Earth from their vengeful nemesis.
News & Interviews for Dragon Ball Z: Resurrection 'F'
Critic Reviews for Dragon Ball Z: Resurrection 'F'
Audience Reviews for Dragon Ball Z: Resurrection 'F'
As a fan of the franchise since childhood, I am once again reminded why DBZ was rightfully cancelled and why Toriyama didn't really want to put out more. I mean Battle of the Gods was already pretty mediocre but this? This is just garbage. The storytelling is atrocious, it's like fanfiction by a 12 year old. Even the fighting animation is sub par by today's standards. It just makes little sense to revive something that's so clearly dated and out of touch with even itself. Gohan is a full blown useless support character, all the past transformations, fusions and story archs are rendered mute because Frieza "never trained a day in his life" Just because it's a DBZ movie shouldn't excuse it from shoddy irresponsible film making, there have actually been good ones in the past. Now it's like anything they spit out DBZ related is a national treasure thanks to blinding nostalgia goggles. I'm almost appalled by the franchise's underwhelming revival.
Drake Tsui
Super Reviewer
Dragon Ball Z: Resurrection 'F' Quotes
| | |
| --- | --- |
| Vegeta/Piccolo/Shenron: | It's cheese! |
| | |
| --- | --- |
| Goku: | No more tricks, no reserves. |
| | |
| --- | --- |
| Goku: | I think it's time you stop talking and start showing me. |