Dragon Ball Z: Wrath of the Dragon
(1995)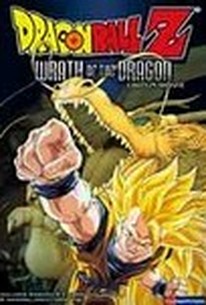 AUDIENCE SCORE
Critic Consensus: No consensus yet.
Dragon Ball Z: Wrath of the Dragon Photos
Movie Info
A mythical creature who once wrecked havoc on the planet returns once again to spread death and destruction, and it's up to the Z Fighters to find the key to defeating the rampaging beast once and for all in an uncut Dragonball Z adventure that finds Goku, Trunks, and Goten facing their most powerful adversary yet. It was long ago that a formidable statue was brought to life by an evil magician, and the citizens were sent running scared from the creature known as Hirudegarn. Though Hirudegarn was eventually defeated when courageous brothers Taipon and Minosha discovered the two magic whistles that would overpower the fearsome monster, a mysterious newcomer named Hoy has found the secret to reviving Hirudegarn and spreading terror once again. When the Z Fighters find themselves overpowered by the re-animated statue, they are forced to seek out the brave Taipon to rid the universe of Hirudegarn once again. ~ Jason Buchanan, Rovi
Critic Reviews for Dragon Ball Z: Wrath of the Dragon
There are no critic reviews yet for Dragon Ball Z: Wrath of the Dragon. Keep checking Rotten Tomatoes for updates!
Audience Reviews for Dragon Ball Z: Wrath of the Dragon
One of the best DBZ movies. The story is neat and Tapion is a very interesting new character to the DBZ canon. I like how this one takes its time to develop the story instead of hastily rushing into the action. The touching brother-like relationship between Tapion and Trunks make this one of the more emotionally satisfying DBZ films. The final battle of the film features most of the Z fighters in action such as Goku, Gohan, Goten, Trunks, and Vegeta. Seeing the fighters battle a giant Godzilla-sized monster in the middle of a city is epic DBZ at its best. Great animation, great action, nice humorous moments, and intriguing plot. Highly recommended.
Christopher Heim
Super Reviewer
This is the best of the Dragon Ball Z movies. The musical score is fantastic. It is nice to see they take a differing approach with the evil foe as this monster is rather large and is not the usually just smaller or just bigger than Goku villain. This movie has the part of the story where our plot is established and it is rather interesting, just needed a bit more to it. Then the last bit of the movie is a rather cool battle featuring many of the DBZ warriors including Goku, Vegeta, Gohan, Goten and Trunks.
Steven Vincent Gee
Super Reviewer
Dragon Ball Z: Wrath of the Dragon Quotes
There are no approved quotes yet for this movie.