Dragon Eyes
(2012)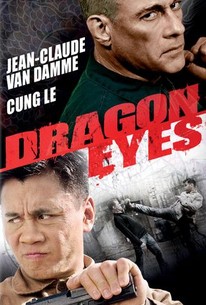 AUDIENCE SCORE
Critic Consensus: No consensus yet.
Movie Info
Welcome to St. Jude, a town where rival gangs rule the streets, where the chief of police is a cold-blooded killer, and where citizens have learned to keep their heads down. Then comes out-of-towner Ryan Hong. His vintage car attracts attention. His unbelievable marital arts skills cause a sensation. Sensing a human weapon, the rival gangs bid for Hong's allegiance. But Hong is committed to honoring an old promise to a mentor he met in prison: that he will "do good" wherever possible. With a lethal combination of street smarts and martial arts, Hong vows to lift St. Jude's citizens out of fear... even if he must turn into a one-man army to do it. -- (C) After Dark
Critic Reviews for Dragon Eyes
All Critics (3) | Top Critics (1) | Fresh (2) | Rotten (1)
Maintaining an admirably straight face, this fist-flying flashback is good fun for fanboy types who take its myriad absurdities with the requisite grain of salt.
May 8, 2012
When it all gets pared down to characters confronting one another (and their own endurance) within a space, it takes on a certain kinetic grandeur.
Where Regeneration showcased a filmmaker ready to pound some life into dreary formula, the ugly and bafflingly dull Dragon Eyes revels in cliché, slowly falling asleep despite some gratuitously violent content.
Audience Reviews for Dragon Eyes
½
So Mr JCVD is now taking roles as wise old mentors teaching the young stuff, reversed from back in the day when he was learning, that is pretty cool if you ask me, it just seems right like a perfectly fitting piece of jigsaw. Of course JCVD has still got all the silky moves but with age creeping up on him he is obviously not gonna be as believeable as in his hayday. Cung Le takes on the role as main hero for this 'Yojimbo' remake (yep another one) a loner comes to a small town and uses the two local gangs against each other to get to the big man and bring peace. So completely and utterly unoriginal and to be frank its been done much much better ('Last Man Standing'), the warring street gang element doesn't really work for me here, it just seems like any other warring street gang flick where as 'Last Man Standing' worked really well due to the time period setting, it looked so darn cool. The cast is a mix of your typical unknowns who all seem to be pretty proficient in martial arts to major player Peter Weller as Mr V the main bad guy. Weller is clearly enjoying himself as he hams it up beautifully whilst for some reason he has been made to look like Frank Sinatra with his little hat, old blue eyes kicking ass. As said JCVD takes more of a backseat role being the mentor in flashbacks and Le is the high flying number one. Personally I didn't take to Le as the main man, he looks solid enough yes but he just doesn't have that leading man quality to pull off being the hero, he's not exactly a great looking guy and I just didn't get the same adrenaline rush from seeing him fight. He can fight but its more of a scuffle plus his moves aren't as sharp or far reaching as others I've seen. Sure its more realistic but you kinda wanna see some fancy JCVD type air moves which make you shout HELL YEAH!!, I wasn't really behind him feeling the rush. I love how everyone in these films is a martial arts expert, every bad guy and every random person called on to fight is a martial artist, I know it equals more kick ass but its kinda stupid isn't it. A kind of videogame vibe to the style has been attempted in places eg. with the character intros which isn't really needed seeing as it isn't really kept up throughout but overall its a slick moody gangster action piece with a nice limited colour palette giving a touch of class. A bit lacking for Mr Silver really, not quite up to his usual standards, a mixed bag of good and bad but more average really. Certainly more stylish than recent JCVD films but he isn't involved so much with this one sooooo...good film title, bares no real meaning to the film but its cool.
Phil Hubbs
Super Reviewer
An explosive action tour de force with bone-crunching and mind-blowing martial arts action sequences that you have to see to believe. A urban western style type of film in the tradition of A Fistful of dollars where our heroes are dark and our villains are even darker. A frequently entertaining and fun thrill-ride. Director, John Hyams crafts a slick, stylish and hard-boiled film. A knockout that hits hard and hits home. A thrilling, tremendously exciting and adrenaline-fueled action-packed crime-thriller. Cung Le is a blast to watch, his acting is exceptional and his movements are amazing. Jean-Claude Van Damme gives a strong, calm and utterly compelling performance. Van Damme and Le have great chemistry in this dark and character driven story. Peter Weller is electric, he`s a slick, smart and bad ass villain.
Van damme as the lead is terribly misleading. He is a cameo part but that isn't a bad thing because this movie is well done. Weller is well cast in the villain role, he owns every scene he is in. John hyams proves he is much more talented as a director then he's father
Brendan O'Connor
Super Reviewer