The Dragon Painter
(1919)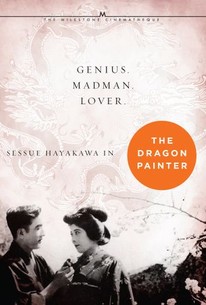 TOMATOMETER
AUDIENCE SCORE
Critic Consensus: Beautifully filmed and powerfully acted, The Dragon Painter tells a timeless tale of romantic love and creative passion.
The Dragon Painter Photos
Movie Info
This was one of Sessue Hayakawa's more unusual films. His character, Tatsu, is a brilliant but half-mad artist who lives in the mountains and is constantly searching for his soul mate, whom he calls his "dragon princess." He finds her in the city -- she is Ume Ko (Tsuru Aoki, Hayakawa's real-life wife), the daughter of master painter Kano Indara (Edward Peil). Indara's one regret is that he never had a son to succeed him and Tatsu answers this unfulfilled wish. But after he and Ume are married, Tatsu looses his ambition and genius. Ume feels that their happiness is the cause of this, so she goes away. Tatsu believes she has committed suicide and is distraught. But he has a vision that his dragon princess tells him he must carry on with his art, so he does. Then he finds out that Ume is not dead, and when he hears the reason she left, they are gladly reunited.
Critic Reviews for The Dragon Painter
Audience Reviews for The Dragon Painter
"The Dragon Painter" is a mesmerizing and tragically moving silent film about the obsessiveness and singlemindedness of artists, whose work often requires sacrifice.(Oh and be careful what you ask for. You might just get it.) Take Kano Indara(Edward Peil), for example. He is nearing the end of his days, wealthy in Tokyo, but sad that he does not have an heir to continue his work and unable to find a worthy successor, despite having a grown daughter, Ume-Ko(Tsuru Aoki). One day, his friend Uchida(Toyo Fujita), a surveyor, has a run in with Tatsu(Sessue Hayakawa), a supremely talented, if possibly mentally unbalanced painter who is convinced that his one true lady love has been trapped in the form of a dragon for the past thousand years and feels compelled to paint her day and night. Kino Indara is impressed with his artwork and invites him to his home, using his daughter as bait.
Interesting story about a talented artist who loses his talent when he gets married. She then fakes her death and his talent comes back. Now thats love!
cody franklin
Super Reviewer
The Dragon Painter Quotes
There are no approved quotes yet for this movie.