Dragon Tiger Gate
(2006)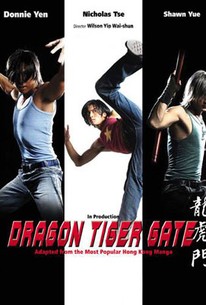 AUDIENCE SCORE
Critic Consensus: No consensus yet.
Movie Info
SPL collaborators Donnie Yen and Wilson Yip join forces once again for this high-energy adaptation of Wong Yuk-Ling's popular manga Dragon and Tiger Heroes. The Dragon Tiger Gate is a Hong Kong martial arts dojo co-founded by the descendents of Dragon (Yen) and Tiger (Nicholas Tse). Separated as children, Tiger fights for the cause of good and Dragon goes to work for fearsome drug smuggler Ma Kun (Chen Kuan-tai). As the action gets under way, Tiger gets into a scrap with Ma Kun's gang and ends up in possession of the Lousha Plaque - a sacred icon of immense value to the powerful criminals. Though Ma Kun and Dragon allow Tiger to abscond with the Lousha Plaque for the time being, Dragon soon sets out to recover the object as nunchaku-spinning warrior Turbo (Shawn Yue) makes his presence known. As Tiger attempts to lure Dragon away from the dark side, the pair is forced to work together for the first time in years in order to defeat formidable Lousha Gang leader Shibumi (Yu Kang), whose penchant for one-on-one fights sets the stage for an explosive climax.
Critic Reviews for Dragon Tiger Gate
There are no critic reviews yet for Dragon Tiger Gate. Keep checking Rotten Tomatoes for updates!
Audience Reviews for Dragon Tiger Gate
This is a highly stylized action movie with lots of interesting ideas, lots of energetic fight scenes, and some decent plot twists. That being said, it does suffer from lack of definition. This movie is based on a comic book series, so they made this one for people already familiar with the characters. There are glaring plot lapses, some irreconcilable twists to the tale, and a whole lot of jumping all over the board. Quite frankly, I was confused during most of this...but overall it wasn't too bad.
Cynthia S.
Super Reviewer
Here we have another manga to movie adaptation as we've seen a lot nowadays coming from Asia. When you watch this you will also feel that this story could have come from a manga. I don't know if that is good or bad. You decide.
The story isn't anything to brag about and it is pretty slow and boring at times. It actually felt like two different movies to me. The first half seemed more upbeat and comical with some nice cinematography while the second half turned into more of a dark drama. What this film does do pretty well though is give background on the 2 main characters of the film. I was actually hoping for the same thing for the Turbo character, but nothing really developed there except for a quick speech about his childhood.
The acting didn't really impress me at all. All the characters were pretty bland. I was expecting that from Donnie Yen, but not from everybody else. The only person that did a decent job was Shawn Yue as Turbo.
The action in here is fast and furious. What do you expect? Its choreographed by Donnie Yen. People that are looking for some good martial arts then this movie may suit your needs. Like most other movies the action is at the beginning and the end, with a couple small fights in the middle. I love Donnie Yen's choreography and it left me wanting more in this film. He never ceases to amaze me with his speed and agility showing why he is my favorite martial artist. Shawn Yue also did some nice stuff with the nunchucks as well.
Since this is a manga adaptation you would expect to see a lot of CG in here. Well, there is a good amount of that and at times they look pretty good and at others they don't. So if you put that all together, you get nothing special.
This movie can be entertaining to a certain few, but others may find this boring and or stupid.
Very fun film that kept me entertained all the way through it. You could criticize the story but that's like criticizing Pringles for not being suitable as a main course.
Christopher Brown
Super Reviewer
Dragon Tiger Gate Quotes
There are no approved quotes yet for this movie.