Dragon Wars
(2007)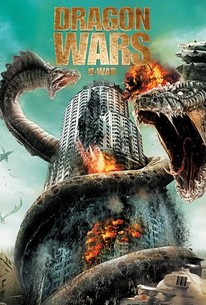 Movie Info
Korean director Shim Hyung-Rae's monster movie D-War begins with a lengthy prologue, in which an antique dealer named Jack (Robert Forster) watches a young patron, Ethan Kendrick (Cody Erens) get zapped with a force emanating from a chest in his shop. Realizing the significance of this event, Jack bequeaths a medal to the boy, and speaks candidly to him of mystical events that transpired a half-millennium earlier. In a bygone era, it seems, giant creatures called Buraki roamed the land, morphing from serpents into dragons and back again, and equipped with a massive army of formidable creatures. An ancient warrior-apprentice saved the life of his beloved from these monstrosities; the warrior's spirit was eventually contained in the aforementioned chest, and it has now filled Ethan. Jack gives Ethan an enchanted red pendant and advises him to see out the contemporary incarnation of the ancient warrior's intended, who can be recognized via a red dragon tattoo on her shoulder. When the woman reaches her 20th birthday, it seems, she and Ethan - joining forces - will be able to reincarnate Imoogi as dragons. That woman is in fact Sarah (Amanda Brooks); she and Ethan do encounter one another, but it isn't long before the Buraki serpent and all of his enormous minions resurface and decide to lay waste to the City of Angels, worming their way through the town as they look for the chosen pair. ~ Nathan Southern, Rovi
Critic Reviews for Dragon Wars
Audience Reviews for Dragon Wars
½
Well its not that bad come on, a cross of 'Star Wars', 'Godzilla', 'king kong', 'Jurassic Park' and all other monster flicks ever hehe. The effects are alright, very good for Korea but less so for Hollywood, but they still look fairly good, the only real problem is when people are bluescreened against the action, then its obvious. The plot, like allot of Eastern movies, its confusing, with lots of odd names, sorcerers, magic and creatures running around, you lose it big time. The acting is slightly below average but you can live with it, the main claim to fame here is an awesome monster battle between US soldiers, dragons and all manner of warriors with weird weapons, including a pretty good 'Star Wars' style Apache choppers vs flying dragons through a skyscraper trenches section, probably the best part. On the whole I quite liked it, its fun stuff and actually beats 'Reign of Fire' thats for sure.
Phil Hubbs
Super Reviewer
½
Dragon Wars is considered the most anticipated film in the history of korean cinema. It's worth seeing for whats there on the screen in front of you. The effects and the movement of the dragons are mind boggling and the surrounding backgrounds of the film are good to look at. The problem with it however that will dissapoint most is the acting and the very very bad script. I did however enjoy the appearence of the actor from the TV Series "Mike and Molly" as a zookeeper. I didn't like it but I didn't hate the film either.
Directors Cat
Super Reviewer
If you go back to 2007 there was this really big line up for a new film getting promoted in my country and was made there called D-War. And director Hyung-rae Shim blockbuster was being promoted everywhere. If you're not quite familiar it is a film that appeals to our nationalism and culture and it cost a stuttering more than $70 million, and my first thoughts where "Don't be Crap" And with the mixed to very negative reviews I was reading I still had hope... And of course I was it opening day like so many and walk out hunted by what I saw. So just because it was made to succeed in my country or even America doesn't make it good... In a matter of fact it was even worse. One tends to always think our country was positive on this... No we weren't at all. If anything 45 million other people thought the same thing. Look how about I just pan out the film for you... Awful acting from our American cast (That occupies the whole film). A horrible story that in same way might not even have anything to do with the legends I was told when I was young. Though impressive Ground breaking Special Effects that can't make up for this plain awful fucking film.
Ariuza koraw
Super Reviewer
Dragon Wars Quotes
There are no approved quotes yet for this movie.