Dragonheart - A New Beginning
(2000)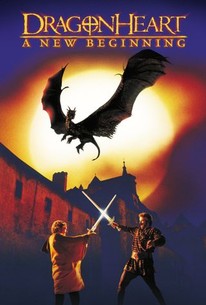 Dragonheart - A New Beginning Videos
Dragonheart - A New Beginning Photos
Movie Info
While knights usually slay dragons, a would-be hero tries to save the world by keeping a dragon alive in this adventure fantasy. In ancient times, Geoff (Christopher Masterson), a young man who works as a stable boy, wants to prove himself by becoming a knight. Geoff trains on his own, diligently but with little success. However, he gets an unexpected assist when he discovers Drake (voice of Robby Benson), a young dragon, trapped in a dungeon. Drake teaches the aspiring knight a few lessons about bravery and loyalty, and in turn, Geoff gives Drake a few tips on how to fly. But an evil knight with dreams of ruling the world discovers a magic formula that will make him all powerful -- and the only ingredient he lacks is the heart of a dragon. Now Geoff and a pair of Chinese travelers steeped in dragon lore must protect Drake before his heart can fall into the wrong hands. Dragonheart: A New Beginning, a direct-to-video sequel to 1996's Dragonheart, was also promoted under the title Dragonheart II. ~ Mark Deming, Rovi
Critic Reviews for Dragonheart - A New Beginning
All Critics (5) | Fresh (2) | Rotten (3) | DVD (1)
Trite characters, cheesy CGI in violent stand-alone sequel.
I have no idea why I liked this, or why I'm even admitting that I did.
March 5, 2003 | Rating: 3/5
Audience Reviews for Dragonheart - A New Beginning
This film is indistinguishable from a pile of crap. A terrible film about kung-fu and dragons that 'spit', thats right, 'spit' ice. It's like if you took all the worst ideas you could imagine, stick them on a wall, cover your eyes and through darts at it to see what the movie will be about. The first dragon heart film was all right, but it was never meant to have a sequal, especially one about an awkward teenage dragon. The film removed all that was holy from the original film. If you every want to see a medieval movie, don't see this movie. If you ever want to see a stupid movie, don't see this movie. If you never want to see again, see this movie. 0% is too generous for this film.
Anders Gatten
Super Reviewer
Sunil Jawahir
Super Reviewer
This sequel to Dragonheart throws up many important questions, but none more than this: which is more important to you, watching a CG baby dragon spit ice amongst ineptly directed straight to video martial arts, or 90 minutes of your life you'll never get back...?
Dragonheart - A New Beginning Quotes
There are no approved quotes yet for this movie.