Dragonlance: Dragons of Autumn Twilight
(2007)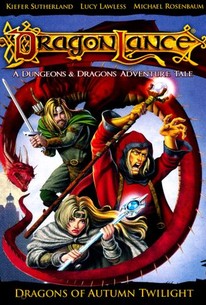 AUDIENCE SCORE
Critic Consensus: No consensus yet.
Movie Info
In this animated film based on the popular series of fantasy books, six friends - a dwarf, a warrior, a half-elf, a mage, a knight and a kinder - have come together once again after spending five years searching for proof that the gods do in fact exist. Sadly, they reunite amidst rumors of a growing evil and an impending war - but now, with horror and chaos looming on the horizon, the goal of their searches may finally be within their grasp in the form of mysterious warrior princess bearing a crystal blue staff. A threat like none of them have seen is poised to overtake their homeland, but if these heroes can stand against it, they will become legends.
Critic Reviews for Dragonlance: Dragons of Autumn Twilight
All Critics (2) | Fresh (0) | Rotten (2) | DVD (1)
A poorly animated tale that offers little new to the genre or the Dungeons and Dragons franchise in which it is based.
Please forgive me if I have a hard time taking such character names as "Sturm Brightblade" and "Flint Fireforge" seriously.
Audience Reviews for Dragonlance: Dragons of Autumn Twilight
A film that is technically awful, but has some interesting flourishes if you are prepared to look past the appearances. Apparently based on a series of books, Dragonlance is very popular. Unfortunately, all it could manage for a feature length film is this low budget animation. The animation is reminiscent of late 80's/early 90's cartoons such as Conan, and He-Man. It is all very jittery and clunky. Sometimes it looks as though characters are being pushed around the screen. The makers theb decide dto make the dragon CG, despite not having the budget for it. It mixes in an uncomfortable blend. On the surface, their are too many similarities to Lord of the Rings. There are Men, Elves, Dwarfs and Wizards. They make an unlikely team that join together to vanquish evil. There is more in terms of complex emotions and quirks, but they barely have room to breath. The hero is the product of a rape, one of the team has sacrificed himself for great power and is not trusted, despite being liked. There's even a mad dragon that comes into play.A lot of nice stuff, but the quality just isn't there to pull it off. Perhaps one day a more complete picture will form, but for now, these are the equivalent to the LOTR animated films.
Luke Baldock
Super Reviewer
½
I eventually for around to buy this as I am a D&D fan and played when I was around ten. I watched the cartoons on a Sunday morning and never read the novels but all the classic styles were there which I expect from classical D&D. You won't be impressed if you do not have a decent amount of knowledge about D&D and take your movie experiences too seriously. I've seen worse, which is basically saying that the animation wasn't up to current standards. Cult viewing at the most. One for the fans.
Alexander Wilson
Super Reviewer
A film that has been long awaited for Dragonlance fans. Maybe fans could have waited a little bit longer.
For the fantasy genre, the story is definitely there. It also moves at a really quick pace with a bunch of fade-ins and outs. This works well because it keeps things fresh by moving the characters from setting to setting without leaving them in one place for too long. The bad part about this is that there isn't enough explanation and backgrounds for characters, places, etc. While the film is still easy to pick up and follow, the lack of depth makes the film that much less interesting. Still, the essence of the story is there.
One of the bigger disappointing features of this film is in the visual department. It's not that it is horribly drawn, but the fact that is seems outdated for its time. It truly is a letdown. There are a few aspects of the film that are in CG, like the dragons and draconians, which is nice, but in the end there is still room for improvement. As far as character design goes, it is done quite nicely.
Probably the best part of this film is the voice-over work and it is not just because there are big names involved. The voices actually fit the characters. Kiefer Sutherland, Lucy Lawless, and even Michelle Trachtenberg are all nice selections for their parts. The sound effects aren't too bad either. A few of Raistlin's spells have a nice ring to them.
This may not be the film that fans have been waiting for, but it still is something. If you are a fan of the book, then feel free to watch this at least once. It isn't no Lord of the Rings budget wise, but it isn't no Blood of the Samurai either, budget wise. If you have never seen Blood of the Samurai, consider yourself lucky.
Dragonlance: Dragons of Autumn Twilight Quotes
There are no approved quotes yet for this movie.