The Draughtsman's Contract
(1982)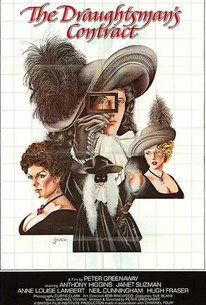 TOMATOMETER
AUDIENCE SCORE
Critic Consensus: Smart and utterly original, The Draughtsman's Contract is a period piece that marks the further maturation of a writer-director with a thrillingly unique vision.
The Draughtsman's Contract Photos
Movie Info
According to this story of a woman not so much scorned as ignored, life in late 17th-century England among the landed gentry was not what it appeared to be on the surface. Mrs. Herbert (Janet Suzman) is desperate to find a way to please her husband and win back his errant affections, and to that end, she coerces the draughtsman Neville (Anthony Higgins) into doing some drawings of the Herbert estate while her husband is away for a few weeks. She means to surprise her husband with the drawings, in the hope that he will be appropriately grateful. Neville does some coercing of his own, refusing to cooperate unless Mrs. Herbert bestows him with requested sexual favors -- she agrees, but is not happy about it. Mrs. Herbert's daughter (Ann Louise Lambert), in turn, seduces Neville -- her relationship with her husband Talman (Hugh Fraser) has become boring. Meanwhile, Talman has never liked Neville and the two of them have more than one witty altercation. Fortunately, Neville is leaving soon but when that day comes, Mr. Herbert's quite dead body is found floating in the water of the moat. Neville leaves anyway, though suspicion starts to center on him because people feel his drawings have something to do with Herbert's death. Unfortunately, Neville comes back to visit after some time has gone by, and the suspicions are anything but subsided as inhabitants of the manor begin to consider a course of action.
Critic Reviews for The Draughtsman's Contract
Audience Reviews for The Draughtsman's Contract
The Draughtsman's Contract has everybody clever in an odd way. I cannot make out what it is about. This is neither irritating enough to make me dislike the film nor intriguing enough to stimulate a rewatch. Would recommend only to those who enjoy the exercise of interpretation; it is not really comical or sexy enough for a casual view.
Robert Brogan
Super Reviewer
½
There are a lot of good things I can say about this film. The costumes and setting are gorgeous, and all of the performances are great - most of all Anthony Higgins, who is not only masterful in his role but wears Restoration costume as if he'd been born to do so. However, despite enjoying the first two thirds of the film I can't say I was especially enamoured of the ending section, possibly because much of it went over my head. Maybe I'll watch it again sometime and see if I understand it better.
Seductive cinematic puzzle, visually rich with deception, both of fact and motive, permeating the texture. Performances are uniformly excellent, while the historical setting is amongst the most vivid committed to film. Michael Nyman's beautifully crafted score contributes greatly.
hawk ledge
Super Reviewer
The Draughtsman's Contract Quotes
There are no approved quotes yet for this movie.