Dread
(2009)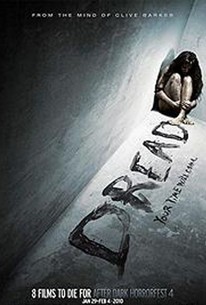 AUDIENCE SCORE
Critic Consensus: No consensus yet.
Movie Info
Three college students producing a documentary on the true nature of fear are slowly drawn into a world of nightmares when one member of the group begins exploiting the phobias of his fellow participants in hopes of seeking salvation from his own dark obsession. Shaun Evans, Jackson Rathbone, Hanne Steen, and Laura Donnelly star in a film from writer/director Anthony Diblasi. Based on an original short story by horror icon Clive Barker.
Critic Reviews for Dread
All Critics (1) | Top Critics (1) | Fresh (1) | Rotten (0)
a twisted psychological thriller that combines the phobic focus of Fearless (1993), the discomfiting reflexivity of Peeping Tom (1960), and the abhorrent torments of Seed (2007).
December 1, 2010

Audience Reviews for Dread
Completely missing the point of the Clive Barker short story, Dread occasionally shows moments of promise but the psychological elements are completely glossed over in favour of gore and torture. Not that there's anything wrong with that per se, but because Dread lacks a proper set up (not to mention the most interesting characters are not given enough development), its final act is confusing and not as disturbing as it wants to be.
Edward Boxler
Super Reviewer
I seem to be a bit of a fan of After Dark Films...the Independent horror film company. They had a festival here in Chicago, and I attended several movies of theirs during that. I enjoyed them. Some immensely. This film was very intriguing, but things don't really start developing until half way through. When they do, however, I was mesmerized, disgusted, and truly intrigued. Good job...NOT for Hollywood big budget lovers, though. Definitely Independent film quality...
Cynthia S.
Super Reviewer
I went into this film quite dubious of the cast but was pleasantly surprised by the acting capabilities and uniquely unsettling characteristics of most of the cast. Although it is slow at times and is not what I would technically define as "horror" it played out nicely and gave the viewer all that they would hope to gain from such a film. I liked it especially because it did not follow a stereotypical "modern" horror movie pace, instead opting to take its time to allow you to bond with the characters so it made the events that unfolded and the things inflicted upon them so much more morish.
Unknown Hobo
Super Reviewer
Dread Quotes
There are no approved quotes yet for this movie.