Dream House
(2011)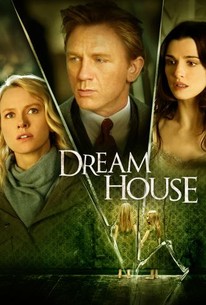 Movie Info
Successful publisher Will Atenton (Daniel Craig) quit a job in New York City to relocate his wife, Libby (Rachel Weisz), and two girls to a quaint New England town. But as they settle into their new life, they discover their perfect home was the murder scene of a mother and her children. And the entire city believes it was at the hands of the husband who survived. When Will investigates the tragedy, his only lead comes from Ann Paterson (Naomi Watts), a neighbor who was close to the family that died. As Will and Ann piece together the disturbing puzzle, they discover that the story of the last man to leave Will's dream house will be just as horrifying to the one who came next. -- (C) Universal Pictures
News & Interviews for Dream House
Critic Reviews for Dream House
Audience Reviews for Dream House
This mess of a film has a few interesting elements but the stupid plot wants so badly to be convoluted that it forgets to be coherent or even plausible. And beware, the trailer gives away the entire movie, including the twists, which only proves that the people in charge of the marketing are complete imbeciles.
Carlos Magalhães
Super Reviewer
It's really surprising that this film hasn't been paid more attention. Not positive attention, mind you, but the kind of attention that truly bad films deserve. This film should have been eviscerated, picked apart, and trivialized until it couldn't languish in its obscurity any longer. Director Jim Sheridan (a six time Oscar nominee) tried to get his name taken off of this film after it was recut, and the trailer released, which gave away the entire twist of the film. That's right, if you watch the trailer, you will understand the entire film without having to watch it. Daniel Craig plays a father and husband, who lives in a house, which apparently was home to a family who was murdered five years prior. While the film looks like a ghost story, it's actually a psychological mystery, which it needn't be. This film is clumsy, thoughtless, confusing, and doesn't know what it wants to be. The ending is slapped on carelessly, in a way that makes you laugh incredulously, like "Really? That's how you're going to end this horrible tale?" The murders are handled horribly, trying to make the gruesome deaths somehow dreamlike, taking away all the familial tension. The specters somehow have agency, and shift from his mind to nearly tangible phantoms. If you're looking for a well handled haunted house film, this is not it.
Spencer S.
Super Reviewer
This was an entertaining movie but to my dismay the main plot twist was given away by the trailer! I would've loved this movie if the twist and the thrill (things which make mystery movies good) weren't revealed beforehand!
Nikhil Nandu
Super Reviewer
Dream House Quotes
| | |
| --- | --- |
| Will Atenton: | Stay away from my family or i'll kill you! |
| Will Atenton: | Stay away from my family or I'll kill you! |
| | |
| --- | --- |
| Trish: | Everyone who lives in this house gets killed. |
| Trish: | Everybody who lives in this house gets killed. |
| | |
| --- | --- |
| Will Atenton: | One upon a time, there were two little girls that lived in a house. |
| | |
| --- | --- |
| Libby Atenton: | How could the neighbors not have said anything to us? |