Dreamcatcher
(2003)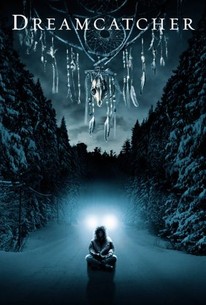 Movie Info
Jonesy, Henry, Pete and Beaver. Twenty years ago they were just kids in a small town in Maine - kids who found the courage to respond heroically to childhood cruelty. In saving a strange boy named Duddits, they unexpectedly gained a fifth friend at the center of their circle. Even more unexpected were the uncanny powers he conveyed to them, bonding them all beyond ordinary friendship. Now the four are men with separate lives and separate problems, haunted by the memory of heroism, with powers that are more of a burden than a gift. When a shocking accident almost claims one of them, they don't at first recognize the return of the eeriness that is somehow linked to Duddits. But when they reunite for their annual visit to a hunting cabin in the north woods, anticipating only the warmth and humor that nourishes them, they are overtaken by a gathering doom. First comes a stranger, a lost hunter unaware of the terrible contagion he bears. On his heels is a blizzard, a vicious storm in which something much more ominous moves--a deadly alien force that will consume some of the foursome and force those who make it to the end of the road to once again summon their forgotten strength--and confront an unparalleled horror.
Critic Reviews for Dreamcatcher
Audience Reviews for Dreamcatcher
Gary 'Jonesy' Jones: I'm filing that in the "Who Gives A Shit" section of my Memory Warehouse.  "Evil Slips Through" For me, Dreamcatcher is one of the worst film experiences I have ever had. This movie is disappointing and as close to unwatchable as I have seen. That quote above from one of the characters fits my final thoughts on this movie perfectly. Not only is this movie horribly acted, but it's a disgrace to Stephen King. It is the worst King adaptation I have seen. Most of the time King adaptions are at worst, watchable because of King's story. Here, Lawrance Kasdandirects a King adaption that crashes and burns and ends up being one of the more disappointing movies I have ever seen. I don't know if a worse cast could have been chosen for this movie. Jason Lee? Are you fucking kidding me? The only place he belongs is in a Kevin Smith film and other than that, I can't stand the sight of the guy. I mean have you watched My Name is Earl? Jesus Christ! Then let's add Donnie Wahlberg, Thomas Jane and Damian Lewis to top off this shit fest. The acting, in my opinion, couldn't have gotten much worse. Even actors like Timothy Olyphant and Morgan Freeman are extremely bad. Although it's hard to pinpoint the worst thing about this movie; I'd have to say it would be the fact that there is a lot of talent here. Kasdan is a decent director and has a film like Body Heat to his credit. The movie has one of the best actors of the past 30 years in Morgan Freeman. Yet this movie is a huge pile of shit; a complete disaster on every level.
Melvin White
Super Reviewer
Sometimes it looked awesome, sometimes it looked crap. That's what it was. 50-50. You may or may not like it. I thought it was okay. I disliked when they killed two of them.
Dead Angel
Super Reviewer
½
It's easy to rip this Stephen King adaption apart for being so undecided between genres and for having fun with its cheesiness. On the other hand, the film is easily a guilty pleasure if you buy into the premise. While the movie is undecided between horror, sci-fi and mystery thriller it has the usual King trademarks of childhood friends, alien monsters with teeth and the unseen enemy. The four leading men are well picked, only Freeman feels a little off as crazy alien hunter military man. Even if silly, the film is far from boring and flows really well, making for some pretty exciting entertainment with a couple of wonderfully creepy and disgusting scenes. If you just let it.
Dreamcatcher Quotes
| | |
| --- | --- |
| Pete: | In the movies, when people wake up together in the morning, they immediately start kissing, nuzzling and going at it, but what they never do is get up first, take a leak and brush their goddamn teeth, which I don't think I'm alone in feeling is pretty much necessary when you wake up. |
| | |
| --- | --- |
| Pete: | Henry, if we die before you get back, promise you'll tell everybody she wasn't my date. |