Dreamscape
(1984)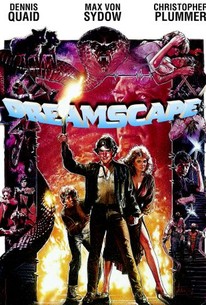 Movie Info
In an attempt to help people who experience recurring nightmares, a research program is using psychics to enter the patients' dreams. The studies are going well, until the President of the U.S. becomes one of the patients, and a psychic assassin attempts to kill him in his sleep.
Critic Reviews for Dreamscape
Audience Reviews for Dreamscape
Tommy Ray Glatman: In this world, Alex, you're nothing. And me, I'm God.  "Close Your Eyes and The Adventure Begins" Dreamscape is an extremely silly movie, but it isn't without its merits. Featuring a story that is a cross of Nightmare on Elm Street and Inception, Dreamscape has some interesting ideas about nightmares and how we could build a story around them. The movie is actually a pretty fun ride, looking back. There were moments when I said to myself, "This is stupid", but in the end I liked it just enough. There's some interesting stuff that balances out all the bad things. Such as the performances from Plummer and von Sydow balancing out the performance of Quaid, who wasn't horrible, but had moments where he was. Dreamscape follows a man named Alex, who has endless psychic ability, but gave it all up at the age of nineteen. Now he only uses his abilities to pick winning horses. He soon finds himself back in action though, when he asked to help out in a new area, called Dreamscape. He goes into the dreams of people and can do pretty much anything. Soon he finds out that someone has a more sinister use for Dreamscape then he at first thought. Now it is up to him to bring an end to it. This is a movie that has that weird movie feel that can only come from the 80's. The effects are terrible when looked at today, and it made it kind of hard to watch, at times. Overall though, the effects were used in an almost humorous way, which actually made the movie more enjoyable. There were just a few instances where the effects seemed to overpower the interesting story that was taking place. Dreamscape isn't a movie that is overly thrilling or engaging, it is just a decent way to spend an hour and a half. I didn't fall in love with it, but it could have been exponentially worse. As it is, I would it give a mild recommendation. I personally wouldn't run out to see it again, but there's some stuff in Dreamscape that could appeal to other people on a grander scale, than it did me. 
Melvin White
Super Reviewer
A great adventure filled sci-fi thriller all about dreams and psychics. I really liked this movie, and I highly recommend it.
Classic 80s sci fi . . amazing cast when one looks at it . . Quaid, Von Sydow, Albert, Plummer, Capshaw .. Crazy how many people they got on board for this one. Was a fun movie for sure.
John Manard
Super Reviewer
Dreamscape Quotes
There are no approved quotes yet for this movie.