Drillbit Taylor
(2008)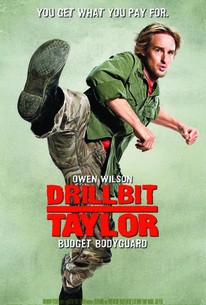 Movie Info
Two high school freshmen are targeted by the school bully on the first day of school. The boys hire what they think is a low-budget soldier of fortune to protect them, but he turns out to be anything but.
News & Interviews for Drillbit Taylor
Critic Reviews for Drillbit Taylor
Audience Reviews for Drillbit Taylor
Some interesting characters, doesn't make Drillbit Taylor just other bullied-teen comedy.
Lucas Martins
Super Reviewer
½
Decent comedy, but with nothing ever memorable going for it, Drillbit Taylor is fun, mindless entertainment that could have been much better. This movie did have some laughs, but it lacked in some area. One of the films biggest faults was Troy Gentile as Ryan, he was totally annoying, and made me lose interest in this one almost. What made this film fun to watch is seeing the three bullies go nuts on the main three characters. I know bullying is a serious issue, but with their antics here, they really stole the show. The film is a decent comedy to watch, it's fun, with a decent cast (aside from Troy Gentile) and it's definitely worth watching. However don't expect the funniest film ever when watching this, there are parts that sometimes don't work, and the film's humor lacks in some areas where it should be really funny. Though it's imperfect, it's still a decent little film to watch and Owen Wilson is pretty funny here as well. The film is worth seeing, but don't expect something great with the comedy and like I said actor Troy Gentile ruined the film as his character was dreadfully annoying. However for what it is, it'll make you laugh a few times. I enjoyed the film, but felt it could have been better. This is a fun little comedy that needed a little bit more thought out comedic material to make it work better, and they could have written out the fat Eminem wannabe, which brought the film down a notch because he was so annoying. Aside from those minor things, Drillbit Taylor is mindless decent fun.
½
Drillbit Taylor may have an unoriginal story and the characters may be a little stale, but the way everything is executed in this film, it is actually very funny! I found myself finding every situation funny no matter how stupid the origin of the joke really was. I believe that if this didn't have any big stars and the kids were unfunny, this film would have definitely flopped, but overall it is easily enjoyable. Drillbit Taylor is the type of movie you can watch a few times over before the film begins to get old!
Drillbit Taylor Quotes
| | |
| --- | --- |
| Ronnie: | Holy crap, you guys are retarded! |
| | |
| --- | --- |
| Drillbit Taylor: | So what'd you do to provoke him? |
| Wade: | Well, he's fat, he's a dork, and I'm awesome. |
| | |
| --- | --- |
| Filkins: | Because you're Siamese queers, bitches! |
| | |
| --- | --- |
| Drillbit Taylor: | Crap on a shit sandwich! |