Drive
(2011)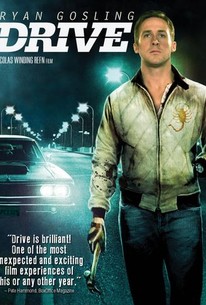 TOMATOMETER
AUDIENCE SCORE
Critic Consensus: With its hyper-stylized blend of violence, music, and striking imagery, Drive represents a fully realized vision of arthouse action.
Movie Info
Ryan Gosling stars as a Los Angeles wheelman for hire, stunt driving for movie productions by day and steering getaway vehicles for armed heists by night. Though a loner by nature, Driver can't help falling in love with his beautiful neighbor Irene (Carey Mulligan), a vulnerable young mother dragged into a dangerous underworld by the return of her ex-convict husband Standard (Oscar Isaac). After a heist intended to pay off Standard's protection money spins unpredictably out of control, Driver finds himself driving defense for the girl he loves, tailgated by a syndicate of deadly serious criminals. But when he realizes that the gangsters are after more than the bag of cash in his trunk-that they're coming straight for Irene and her son-Driver is forced to shift gears and go on offense. -- (C) FilmDistrict
News & Interviews for Drive
Audience Reviews for Drive
This arthouse action-noir is especially successful in what is so hard to see in movies today: style plus substance, with a fantastic Ryan Gosling as a sullen, calculating and self-controlled Man With No Name in a plot that perfectly blends a melancholy atmosphere and brutal violence.
Carlos Magalhães
Super Reviewer
In 2008, just three years after the publication of James Sallis' crime novel Drive, Universal Studios got behind the idea of a film adaptation. Originally, The Descent director Neil Marshall was to take the reigns and craft an L.A-set action mystery with Hugh Jackman as the lead. Two years later, this proposed plan collapsed and in stepped Ryan Gosling. With a spate of successful films and strong performances already behind him, Gosling was an actor in high demand and for the first time in his career he was given the opportunity to choose who would direct the film. Already a big admirer of his work, he choose Danish director Nicolas Winding Refn. The film was eventually released in 2011 to mass acclaim and struck a chord with audiences and critics alike. Not only was Refn awarded Best Director at the Cannes Film Festival but the film received a 15 minute standing ovation and in a year filled with excellent movies, Drive remains the best. â~Driverâ(TM) (Ryan Gosling) is a man of few words and keeps to himself while working for his mechanic friend Shannon (Bryan Cranston) who also gets him some Hollywood stunt man jobs. By night, though, he makes his real money in the criminal underworld as a top-flight getaway driver who lives by a strict code. However, when he develops an affection for his next-door neighbour Irene (Carey Mulligan) he is drawn into helping her ex-con husband Standard (Oscar Isaac) who has brought unwanted attention and conflict to their doorstep from the local thugs and menacing mafia figures including Nino (Ron Perlman) and Bernie (Albert Brooks). There's a moment in Drive - and it happens within minutes of it opening - that you release you could be in for something very special. From the outset we are thrust into a heist. This is no ordinary take on a heist, however. We never actually see what is going on during the robbery. All we see is a silent driver, waiting in a car, ready to make a getaway when the looters return to the vehicle. It's hugely effective in allowing us to see things from our main characters point of view and this absolutely gripping and adrenaline filled introduction sets a precedent for what is to come in Refn's abundantly stylish, art-house thriller. It doesn't stop there, though. Directly following this, a kitsch, vibrant pink, credit sequence is thrust onto the screen as 80's inspired synth-pop track Nightcall by Kavinsky blares overhead. Make no mistake, Drive oozes cool and should be viewed and listened to with the best of screens and speakers available. You can actually feel your senses heightening and the excitement setting in. As much as Refn has said the film is dedicated to the existentialism of Alejandro Jodorowsky (as was Gosling and Refn's later collaboration Only God Forgives) there are numerous references and influences from a number of films and filmmakers; from car movies like Peter Yates' Bullitt, Monte Hellman's Two Lane Blacktop and Walter Hill's The Driver there are also long protracted night shots of L.A. that are reminiscent of the cityscapes of Michael Mann's Thief or Heat. The influences even extend to Gosling's unnamed character. He has been likened to Clint Eastwood's The Man with No Name from Sergio Leone's classic spaghetti westerns due to his lack of verbal communication but, in terms of living by a strong moral code, he also shares similarities with the lone-warrior mythology of Alain Delon's hitman, Jef Costello, from Jean Pierre-Melville's French classic Le Samouraï. Despite all of these influences, though, Drive still stands as a film in its own right. The story arc is nothing new as the aforementioned films and filmmakers attest to but what makes Drive tick is it's approach. This is a film steeped in mood and atmosphere which is thanks in large to Newton Thomas Sigel's gorgeous cinematography where each moment is expressively captured. Even when the characters say nothing, Refn and Sigel's decision to linger long on shots seems to suggest their innermost thoughts purely by capturing a protracted gaze and Cliff Martinez provides a haunting music score that compliments the striking visuals onscreen. There are also numerous beats of ethereal beauty and just when youâ(TM)re settling into itâ(TM)s meditative tone, youâ(TM)re exposed to sudden fulminations of brutal violence. One moment it can be pondering life, love and relationships, the next it's literally pummelling your head into the ground. The momentary or seemingly deliberate pace it had, making the unrelenting savagery all the more intense and effective. Refn's unique and poetic approach to the genre also extends to his approach on casting. No tapes or auditions were used; With the exception of Gosling, all actors would meet with the director and he would cast them on the spot if he felt they were right which results in a rich collection of performers where no one puts a foot wrong; The always excellent Bryan Cranston (apparently ad-libbing most of his lines) pitches in a desperate and downtrodden character and manages to convey a certain world weariness and sadness in how he has come to be where he is in his life; Fresh from her leading actress Oscar nomination for An Education, Carey Mulligan exudes the requisite vulnerability and sensitivity as her innocence is swamped with the depravity and violence around her; Largely unknown at the time, Oscar Isaac turns a very flat underwritten character into a three-dimensional one (that wasn't originally in the script). He brings a charismatic, family man edge to his role and steers him away from the archetypal ex-con. He's hardly in the movie but makes an important contribution and shows just why he's an actor that has went on to bigger things; The same could be said for Christina Hendricks, she has less than a handful of small scenes with sparse dialogue but she still impresses; Normally associated with comedic roles, Albert Brooks plays it convincingly against type and delivers a menacing villain while his henchman in Ron Perlman adds the right balance of presence and ferocity to Brooks' cold calculation; Despite having the most screen time, however, you could say that Gosling actually has less to work with. Being a man of few words, he has to base his performance on mannerisms and subtle facial expressions and he does so with understated brilliance. If you're seeing Drive for the first time then Gosling probably won't stand out as anything special but on repeat viewings it's clear just how commanding a performance he delivers. He can effortlessly act with his eyes alone which allows his silence to speak volumes and with the very nature and mood of the film's dependency on a minimalist lead, Gosling captures it perfectly. There's a particular understanding and crucial tone to the performances that are fully in tune with Refn's rhythm and elegant, art-house style. He takes a mainstream American idea and defies conventions by putting a European spin on it while employing existentialism and ambiguity as key factors in his vision. This is the very basis that makes Drive such a success. It's respectful to it's audience and turns a tried-and-tested storyline into something fresh and exciting. A sophisticated, ultra-violent neo-noir that manages to combine a tender love story with intense action set-pieces, while channeling an artistic creativity. To put it simply, it's the best film of 2011 and of the very best in recent years. Mark Walker
Mark Walker
Super Reviewer
½
This film is a very slick and awesome conscious mix of contemporary and retro aesthetics and stylization, and, even though I'd prefer the decade for the retro callbacks to be the 70s instead of the 80s, this is still a wonderfully art directed (and artsy) action film. Instead of taking a page from stuff like The Fast and the Furious, this is a car movie that, as I mentioned, goes for a far more retro look and feel, yet still throws in plenty of modern sensibilities. It's an action movie, but it's also very artsy, a tad pretentious, and the sort of action film that people would normally hate action movies can get into and enjoy. In a way, this is a very philosophical film that really grooves on existentialism, mystery, and ambiguity. Our lead is a guy credited simply as Driver, but also referred to as Kid. We don't know his real name, or really all that much about him, aside from surface details. He works in a garage, does part time work as a Hollywood stunt driver, and spends his nights moonlighting as a getaway driver for hire for any criminal that wants him. He really doesn't say much, but as they say, actions speak louder than words..and when he gets into some nasty business with the mob after a job gone wrong, his responses really get nuts. Mostly that has to do with his neighbor lady (and prospective love interest) getting targeted too, something that Driver just can't stand for, especially since she's an innocent. So yeah, this film has a very simple, familiar basic premise, and there's not much in the way of character development or heavy , heavy plot, so it's mostly all about the fun stuff like the action and the stunts. What''s funny though, is that the film isn't wall to wall action. When we do get bursts of violence though, they come swiftly, unexpectedly, and things get rather graphic and shocking at times. Where the film puts almost all of its focus then is on mood, tone, and atmosphere, and, if you dig ambience, then this film will definitely satisfy. The cinematography, music, editing, and all of that is just gorgeous, and the costumes (all hail cool gloves and jackets) rock, as do the cars. The film is sorta deep in a very ponderous way, but I enjoyed it. It's probably not really as deep as it wants you to think it is, mostly because it is very vague, and the dialogue is quite sparse at times, but hey, sometimes it's okay to just loosen up and let things flow, even if not a long happens (until the sudden bits of violence from time to time). If the film had spent some more time giving insight into the characters, and really developing them a lot more, then I'd definitely bump this up to a full 5. As it stands though, I just can't quite do that. I do dig the performances here. Gosling is definitely starting to eclipse Depp as the epitome of cool, and there's nothing wrong with that. He's a bad ass, even if his lonely and mysterious ways can sometimes be frustrating. Carey Mulligan is nice as Driver's neighbor/potential love Irene, even if she does spend most of her time looking at him longingly without saying a word. Oscar Isaac is good in his role as an ex-con who decides to play the part atypically. Bryan Cranston also delivers solid work as always as Driver's main business associate. The villains though are where the film gets juicy. Perlman of course is stellar, but yes, as tons of people have already stated many times before, this film features an excellent villainous turn from funny man Albert Brooks. He's played baddies before, but this is the first time he's played one that was legitimately scary, intense, and intimidating. Damn the Oscars for snubbing him, because he's brilliant. Blah, blah, blah. You should have picked up on how I feel about this film at this point. It's awesome. Go see it. It's not a perfectly brilliant piece of work, but I definitely do think it lives up to the hype.
Chris Weber
Super Reviewer
Drive Quotes
| | |
| --- | --- |
| Driver: | Now you just got a little boys father killed, you almost got us killed, and now you're lying to me. |
| | |
| --- | --- |
| Nino: | That is one motherfucking, fine-ass, pussy-mobile, mothafucka'! Damn! |
| | |
| --- | --- |
| Driver: | "How about this? Shut your mouth...Or I'll kick your teeth down your throat and shut it for you." |
| | |
| --- | --- |
| Driver: | You give me a time and a place, I give you a five minute window. Anything happens in that five minutes and I'm yours. No matter what. Anything happens a minute either side of that and you're on your own. Do you understand? |