Drive Hard
(2014)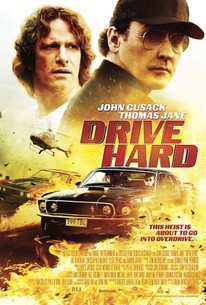 TOMATOMETER
AUDIENCE SCORE
Critic Consensus: Hitting the pavement with an empty tank of inspiration, Drive Hard goes through its action beats in fits and starts before puttering out completely.
Movie Info
Former racecar driver Peter Roberts (Thomas Jane) traded the winner's circle for a 9 to 5 job as a beginners' driving instructor. But his life shifts into overdrive when Simon Keller (John Cusack) hijacks Peter to be his getaway driver in a $9 million heist. (c) Image Entertainment
News & Interviews for Drive Hard
Critic Reviews for Drive Hard
Audience Reviews for Drive Hard
Stephen Skudlarek
Super Reviewer
John Cusack and Thomas Jane kick the tires and light the fires in the chase film Drive Hard. The story follows a former race car driver turned driving instructor who's tricked into being a wheel-man when his student robs a mob bank. Unfortunately the performances aren't very good; especially Jane, who's down right awful. But the writing is rather poor too, with stereotypical characters and unfocused storytelling. A trite and unoriginal action film, Drive Hard is a lazy piece of filmmaking.
Dann Michalski
Super Reviewer
Drive Hard is a film that had an interesting concept for a film, one that was quite great to be honest. This is a film that should really have been something great, but as a whole, does it standout? Not really. The film starts off fine, but it quickly runs out of effective ideas to really make it standout. This had the potential of being a great action film, but something was missing to really make it a worthwhile film to watch. I really wanted to enjoy the film, unfortunately, it was underwhelming and mediocre. The film wasn't awful, but it lacked anything to really grab your attention. Drive Hard could have been a fine low budget action film, unfortunately, it never becomes anything memorable or entertaining for that matter. If the script would have been better thought out, and polished up a bit, then maybe this film would have been something great, as it is, it's a pretty dull affair, and it's a shame because the film had a very good premise, unfortunately the execution was sloppy, and it ended up being a bland film that simply didn't deliver. Drive Hard should have been better, but it quickly goes all over the place, and tries far too hard at being a well executed action, which it's not, and it loses track of what it tries to do by compressing too much into a short run time, add to that plenty of genre clichés, and you have a film that is not that interesting. This could have worked very well if the script would have been reworked, instead it ends up being a mediocre film that tries to be far too ambitious than it is. A forgettable film that isn't worth revisiting again.
Drive Hard Quotes
There are no approved quotes yet for this movie.