Driving Miss Daisy
(1989)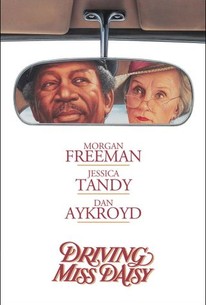 TOMATOMETER
AUDIENCE SCORE
Critic Consensus: While it's fueled in part by outdated stereotypes, Driving Miss Daisy takes audiences on a heartwarming journey with a pair of outstanding actors.
Driving Miss Daisy Videos
Driving Miss Daisy Photos
Movie Info
Based on the Pulitzer Prize-winning play by Alfred Uhry, Driving Miss Daisy affectionately covers the 25-year relationship between a wealthy, strong-willed Southern matron (Jessica Tandy) and her equally indomitable Black chauffeur, Hoke (Morgan Freeman). Both employer and employee are outsiders, Hoke because of the color of his skin, Miss Daisy because she is Jewish in a WASP-dominated society. At the same time, Hoke cannot fathom Miss Daisy's cloistered inability to grasp the social changes that are sweeping the South in the 1960s. Nor can Miss Daisy understand why Hoke's "people" are so indignant. It is only when Hoke is retired and Miss Daisy is confined to a home for the elderly that the two fully realize that they've been friends and kindred spirits all along. The supporting cast includes Esther Rolle as Miss Daisy's housekeeper and Dan Aykroyd as Miss Daisy's son, Boolie (reportedly, playwright Uhry based the character upon himself). Driving Miss Daisy won Academy Awards for Best Picture, Best Actress (Jessica Tandy), Best Screenplay (Uhry), and Best Makeup (Manlio Rochetti). ~ Hal Erickson, Rovi
News & Interviews for Driving Miss Daisy
Critic Reviews for Driving Miss Daisy
Audience Reviews for Driving Miss Daisy
½
Why this movie won so many Oscars is something that escapes me, given its annoying and poorly-paced narrative that forces us to endure an unbearable old lady and feels tremendously episodic trying to span 25 years with skips in time that are never fluid.
Carlos Magalhães
Super Reviewer
Driving Miss Daisy, I thought was a pretty good film, but was nowhere near the grand scale it has been described as. I'm not saying that it's a bad affair, but I feel it's a bit overrated as well. Morgan Freeman has made far better films than this, but here he delivers a very good performance, but compared to other pictures he's done, this one just doesn't stand out. The film is good for what it is, but I don't feel that it's a classic either. The story is good, charming and fun, and it boasts some engaging performances, but at times you feel that the film could have been much more as well. The film feels like it tries too hard at grabbing your attention and it should be effortless in doing so. Miss Daisy is good, but I simply didn't see how great it is. I personally feel there are far better films out there. Luckily the film is entertaining for what it is, but I would call this film a film that only warrants one viewing because I feel that it's necessarily a film that doesn't need to be seen time and time again. Driving Miss Daisy is entertaining and good for what it is, but it doesn't stand out as powerful picture and a film classic by any means. The cast do a fine job in their roles, but I felt that the story could have been polished a bit, and it should have had the potential of being a truly great film. The film is unfortunately a prime example of typical Oscar bate, only designed to appeal to the Academy, but when you actually watch it, you wonder why this film is so good. I mean this picture is entertaining, well acted and good, but it's nowhere near as good as everyone has claimed it to be.
½
This is an undeniably sweet movie, that you cant help but enjoy, i love morgan freemans laugh in this movie its so funny, although at times the uneducated character can become a bit annoying, that said it is a sweet, amusing movie, its debateable whether it is solely deserving of the awards although the acting is superb the movie is nothing spectacular to make you wow i love that movie its amazing because it quite simply isnt. I did enjoy and is worth the watch! sweet drama comedy.
Film Crazy
Super Reviewer
Driving Miss Daisy Quotes
| | |
| --- | --- |
| Miss Daisy Werthan: | I've never been prejudiced in my life and you know it. |
| Boolie Werthan: | (talking about the Martin Luther King dinner) Okay, then why don't you ask Hoke to go with you? |
| Boolie Werthan: | Okay, then why don't you ask Hoke to go with you? |
| Miss Daisy Werthan: | Hoke? Don't be ridiculous. He wouldn't go. |
| | |
| --- | --- |
| Hoke Colburn: | (driving Daisy to Mobile) Did I ever tell you about the first time I've ever been outside the state of Georgia. |
| Hoke Colburn: | Did I ever tell you about the first time I've ever been outside the state of Georgia. |
| Miss Daisy Werthan: | No, when was that? |