Drole de Drame (Bizarre Bizarre) (Drôle de drame ou L'étrange aventure du Docteur Molyneux)
(1939)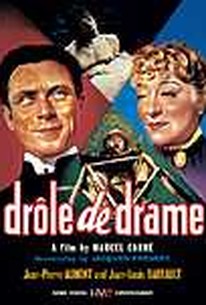 Movie Info
In a comedy-farce that runs from black humor to slapstick, this story is one in which a mystery writer is caught unawares by his cousin, a vicar, who shows up unannounced for a visit. Since the servants have just walked out, the writer's wife hides out from the vicar, taking care of the cooking, cleaning and other household chores. To explain his wife's absence as hostess, the writer concocts an excuse which only makes the vicar convinced that he has done away with his spouse. Things go from bad to worse and eventually Scotland Yard is called in to clear things up. ~ Tana Hobart, Rovi
Critic Reviews for Drole de Drame (Bizarre Bizarre) (Drôle de drame ou L'étrange aventure du Docteur Molyneux)
Audience Reviews for Drole de Drame (Bizarre Bizarre) (Drôle de drame ou L'étrange aventure du Docteur Molyneux)
"Drole de Drame"("Bizarre Bizarre" is the American title) starts at a mostly empty meeting led by the Bishop of Bedford(Louis Jouvet) condemning the mystery novels written by Felix Chapel as immoral. William Kramps(Jean-Louis Barrault), a serial killer, simply wants to kill Chapel. That worries Irwin Molyneux(Michel Simon), a cousin of Bedford's, more than anything else since he is secretly Chapel. What worries his wife Margaret(Francoise Rosay) is her cook and butler finally quitting, forcing her to make dinner for that night's visit by the bishop. At least, Eva(Nadine Vogel), the young maid, has not quit which makes Billy(Jean-Pierre Aumont), the milkman, very happy. Margaret has to stay out of sight to complete the meal for which Irwin comes up with a weak excuse for. So, the bishop comes to the only rational conclusion that he can which is that Irwin killed his wife... Set in Victorian London, "Drole de Drame" is a breezy, silly and darkly funny farce about why some times too much milk can be a bad thing. Seriously, it is about social status, as Margaret worries too much about hers to come clean which leads to unforeseen consequences for everybody. Along these same lines, the characters have more than their share of hypocrisies, not just the wealthy, but also the mob. For example, Kramps is an animal lover and that while Bedford is a man of god and father of a very large family, he is also a fan of showgirls. All of this is accomplished without somehow resorting to caricature.
Drole de Drame (Bizarre Bizarre) (Drôle de drame ou L'étrange aventure du Docteur Molyneux) Quotes
There are no approved quotes yet for this movie.