Drop Dead Fred
(1991)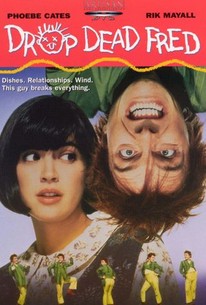 TOMATOMETER
AUDIENCE SCORE
Critic Consensus: Tackling mature themes with an infantile sensibility, Drop Dead Fred is an ill-conceived family comedy that is more likely to stir up a headache than the imagination.
Movie Info
When Elizabeth Cronin (Phoebe Cates) comes to stay with her overbearing mother (after her husband leaves her for a younger woman), she rediscovers her wacky imaginary childhood friend, Drop Dead Fred (Rik Mayall). Drop Dead Fred and Elizabeth have a number of mischievous, sometimes malicious, adventures as Elizabeth struggles to regain her sense of self and independence.
Critic Reviews for Drop Dead Fred
Audience Reviews for Drop Dead Fred
This quirky comedy from Dutch director Ate de Jong shares psychiatric themes dealing with abuse, madness, imaginary friends, and mental illness. Of course, all of these themes, however interesting and sparse in most comedies, are not well represented and are used to exploit bad jokes and queer physical comedy. Actually, what bothers and annoys most in this film is the performance from one person in particular, and that is comedian Rik Mayall as the eponymous Drop Dead Fred. Famous in England for his over-the-top stand-up comedy routines, here Mayall plays an imaginary friend to Elizabeth, played by Phoebe Cates. She is in an emotionally abusive relationship with her husband, Charles, played by Tim Matheson, and controlled by her domineering mother, played by Marsha Mason. Cates plays her role very quietly and in a distinguished way, which is odd in comparison to that of Rik Mayall, who is a loudmouthed, thoughtless, relentlessly irritating nincompoop. His performance is beyond comparison, because it doesn't make any sense in context with the rest of the situations presented during the film. If he exists to work through Elizabeth's inner turmoil, and does so throughout the film, than why does he have her commit crimes, or basically ruin her own life in the process of leaving her husband and finding her own strength? While the basic story is not terrible or anything resembling clichéd, the characters do these baffling and always misguided things that infuriate you as the viewer. This ranges from people throwing pasta in restaurants and calling it impulsive fun, to friends being okay with getting her home totaled and then she beats up a figurative man that she can't see. Everyone in this film is just unfortunate and misguided at every turn. There are some decidedly funny laughs to be had once in a while, but the overall view of this film is trashy and gross.
Spencer S.
Super Reviewer
Besides a few moments where the writers stumbled upon a lucky line that happened to work, "Drop Dead Fred" is easily the most brainless film I have ever seen in my entire life. As a childhood imaginary friend comes back to haunt her and her new job, along with her relationship, everything goes to hell as she seems to be insane. This film is just one annoying scene after another and it is solely the most painful experience I have ever had, trying to get through a movie. "Drop Dead Fred" is easily THE worst movie I have ever seen, hands down!
This is great purely for Rik. I love 'Bottom' and 'The Young Ones' and this is close to being great stuff, close. The idea is cool and original but it needed more mischief from Rik and more risky laughs. Its still good, love Rik's look.
Phil Hubbs
Super Reviewer
Drop Dead Fred Quotes
| | |
| --- | --- |
| Drop Dead Fred: | Wow! Cobwebs. |
| | |
| --- | --- |
| Drop Dead Fred: | No panties! No panties!! |
| Drop Dead Fred: | No panties! No panties! |
| | |
| --- | --- |
| Drop Dead Fred: | Ah! My head! The Mega-Bitch squashed my head! The bitch! She squashed my head! The evil one reigns supreme! |
| | |
| --- | --- |
| Drop Dead Fred: | Oh, you wanted me to go away? Fine, just say the magic words & I'll piss off. |
| Drop Dead Fred: | Oh, you wanted me to go away? Fine, just say the magic words and I'll piss off. |
| Elizabeth Cronin: | Piss off! |
| Drop Dead Fred: | Gotcha! You just said the magic words! |