Drop Zone
(1994)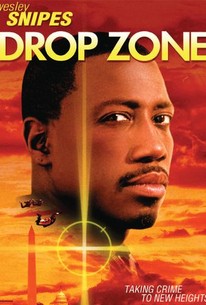 Movie Info
Wesley Snipes is battling bad guys in the air again, this time with parachutes, in this action-packed suspense thriller. Pete Nessip (Snipes) is a Federal Marshall who, teamed with his brother Terry (Malcolm-Jamal Warner), is escorting criminal computer genius Earl Leedy (Michael Jeter) to a new prison facility. Pete, Terry, and Earl are on a jet en route to Earl's new lockup when terrorists attempt a daring hijacking; Terry is killed in an explosion aboard the plane, and suddenly Earl is missing. Pete discovers that a team of sky-diving outlaws, led by former DEA agent gone bad Ty Moncrief (Gary Busey), have snatched Earl from his flight and spirited him away for a special raid on Washington D.C.; Ty and his men intend to take advantage of an obscure rule in which the normally restricted airspace in Washington D.C. is open to parachute enthusiasts on July 4. Eager to avenge his brother's death and put both Ty and Earl behind bars, Pete recruits sky-diving expert Jessie Crossman (Yancy Butler) to teach him how to infiltrate Ty's team of sky-bound criminals. Superb aerial stunt work highlights this film; please note that Pete's last name is an anagram for the leading man's last name.
Critic Reviews for Drop Zone
Audience Reviews for Drop Zone
½
Standard police vs. the bad guys shoot-em-up with the hook being that there's a hella lot of skydiving driving the piece. That's pretty cool, too, lots of action off the ground, and way off the ground. Still I wished for more time for the characters to develop relationships between each other so you could give a damn one way or the other who was dropping out of the sky. If straight action is for you, then you could do worst than this.
Kevin M. Williams
Super Reviewer
½
I remember when this came out it was quite a big action flick for Snipes, its funny when you look back on these old films and see how bad they really were hehe. One of two skydiving flicks released in the same year (much like the two Robin Hood flicks) but quite different from each other surprisingly. This film is a slight rip on the far superior 'Point Break' in my humble opinion, just replace surfing with skydiving and you pretty much know what I'm talking about plot wise and action wise. Problem is the action is rather dull, repetitive and dated even back then with a boring gang of baddies lead by the too old Gary Busey and a whole host of similar aerial set pieces that are clearly not the stars haha. Very much a by the numbers action flick that isn't as good as other by the numbers action flicks.
Phil Hubbs
Super Reviewer
½
Wesley hits the air time again, as a US Marshall pursuing a computer genius who was kidnapped at high altitude by a group of elite parachutists and ex law enforcement and soldiers. Knowing that the kidnappers and his prisoner is still alive, he takes to the skies with the aid of a crazy drop expert and her equally crazy team , learning how to parachute, as well following the trail of the kidnappers, who have a bad guy agenda to make millions, by utilizing their skills. Wesley can't get enough of high altitude, and honestly, if we had mroe cops and security like Snipes, we'd be a hella lot safer! But anyways, this movie, like Passenger 57, set the bar again for a new kind of action. A mix of gun play, fist-cuffs and sky diving embroiled in an average though believable plot, makes for a pretty good flick. And why not? This is one of the earliest movies to take extreme sports to the big screen in a big way, and the sky diving cinematography was excellent, most of the time. But the cast was good, another bad guy in the form of bad ass Gary Busey. Snipes, once again, is a flawed and vulnerable character, and is pretty much a novice when it comes sky diving. But considering what he's up against, he had to learn how to fly pretty fast, before the ground or the bad guys get him, whichever comes first. So welcome to the daredevil world of sky diving.... and Wesley Snipes. XD
Drop Zone Quotes
There are no approved quotes yet for this movie.