The Drowning Pool
(1975)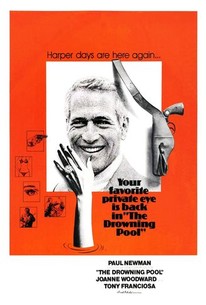 Movie Info
Paul Newman returns as private detective Lew Harper is this tale of blackmail and murder based on a novel by Ross MacDonald. Iris Devereaux (Joanne Woodward), the wife of a wealthy oilman from Louisiana, hires Harper after she receives a threatening letter. A blackmailer is threatening to tell Iris' husband James (Richard Derr) about a recent extramarital affair; she claims this indiscretion never happened, though she has been unfaithful in the past, and years ago had a brief fling with Harper. Matters become more complicated when Iris' mother-in-law Olivia (Coral Browne) is found murdered. Eventually, Harper traces the blackmail letter to Kilborne (Murray Hamilton), another bayou oil baron, and along the way encounters Schuyler (Melanie Griffith), Iris' young but ripe daughter; Pat Reavis (Andy Robinson), Olivia's former chauffeur and a key suspect in her murder; and Detective Broussard (Tony Franciosa), a police investigator who, like Harper, was once involved with Iris. This was Coral Browne's first film after her marriage to actor Vincent Price in 1974.
Critic Reviews for The Drowning Pool
Audience Reviews for The Drowning Pool
An excellent sequel to Harper. It takes everything great from the first film without being repetitive. Paul Newman delivered a great performance as did a young Melanie Griffith. The story was extremely intriguing and entertaining, while also having a light hearted, comedic tone. Stuart Rosenberg made a film that isn't just fluff, it's extremely well made. If you enjoyed the first, I can't see you not liking this.
Conner Rainwater
Super Reviewer
½
Lew Harper returns to investigate a case of the blackmail of a wealthy southern woman and uncovers corruption and murder. As usual. The sequel to Harper is far less jokey in tone and is more of a straight noir style thriller. All the usual ingredients are here; smart mouthed detective, hard-nosed cops, promiscuous young girl, shadowy land baron and the inevitable mix of small time hoods and snitches. The plot is very similar to that of Chinatown (although lacking its subtlety) but it actually works rather better than its predecessor because of the lack of swinging sixties style gimmicks; it has dated rather better as a result. A decent detective story that lacks flash or even a hint of originality but is good, solid entertainment.
½
mediocre and muddled but Newman is good as always.
The Drowning Pool Quotes
| | |
| --- | --- |
| Detective Franks: | There's nothing wrong with southern California that a rise in the ocean level wouldn't cure." |
| Detective Franks: | There's nothing wrong with southern California that a rise in the ocean level wouldn't cure. |