Drugstore Cowboy
(1989)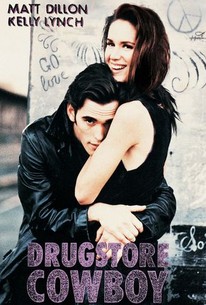 Movie Info
The operative word in Drugstore Cowboy is "drug". Matt Dillon plays the leader of a group of dopeheads who wander around the country robbing pharmacies to feed their habits. Dillon's chums include doltish James Le Gros and teen-age junkie Heather Graham; also along for the ride is Dillon's wife Kelly Lynch. Their nemesis is cop James Remar, whom Dillon takes perverse delight in humiliating. When one of the young addicts dies of an overdose, it promps Dillon to try to go straight, a task complicated by wife Lynch's determination to stay high and by the corrupting presence of an ex-priest, played by Naked Lunch author William Burroughs. Drugstore Cowboy was director Gus Van Sant's breakthrough picture.
Critic Reviews for Drugstore Cowboy
Audience Reviews for Drugstore Cowboy
½
Matt Dillon delivers an excellent performance (one of his best) in a film that can be equally sad and funny (even funnier than one would imagine), surprising us with the depth it achieves yet reaching an ending that feels too easy compared to the audacity that preceded it.
Carlos Magalhães
Super Reviewer
½
Based on a novel, this is a story, set in the Pacific Northwest in the early 1970s about a group of drug addicts who rob pharmacies in order to get their fix and continue to stay high. They consist of husband and wife team Bob and Dianne Hughes (Matt Dillon and Kelly Lynch) and the younger couple Rick and Nadine (James LeGros and a young Heather Graham). Bob is a bit paranoid and superstitious, Dianne is rather sexually frustrated, Rick is a bit of a dolt, and Nadine is a young teenage runaway. They have their problems, but are nonetheless an offbeat family who make things work, despite their dangerous lifestyle. Given the nature of how they live and operate, the crew has been surprisingly lucky. When their luck begins to change however, Bob realizes that, no matter how hard it might be, a change needs to be made. This was Gus Van Sant's sophmore effort, but it became his breakout work that put him on the map. This is a very strong effort, and actually enjoyable despite the grim and gritty subject matter. What makes it all work is that it finds that middle ground where it manages to not sugarcoat things, but also not get too extreme or come off as preachy or pretentious along the way. It is competently and artistically made, and I can see why Van Sant managed to go somewhere after this instead of becoming a one trick indie darling. The music, cinematography, and editing are all quite nice, and the film does a great job of depicting the seedier side of the early 70s drug culture without glamorizing things even though they're done with strong helpings of cinematic craft and style. Where the film truly shines though is with the casting and the performances. Matt Dillon had done work before this, but his turn as Bob is pure excellence, and really made him a rising star. Kelly Lynch gives a finely observed turn as Dianne, and her performance really adds to the pain that is felt when it becomes clear that she will probably never change. LeGros is pretty good as Rick, but he gets a little too overshadowed by the others. Graham is quite strong as the newbie of the group, and it's wonderful seeing her in the infancy of her career. Other notable work is put in by James Remar as a cop bound and determined to catch the group and put them away for good and William S. Burroughs as a defrocked priest who shows up for just a few brief, but important scenes fleshing out the world of drugs and the toll they can take. All in all, this was quite an impressive film. I think it is brilliant, but can't, for some reason, bring myself to give it the full 5. It gets at least an A- though, it that puts things in perspective. I guess maybe I'm a little nitpicky because I was able to guess (correctly) the outcome of some events. Maybe I shouldn't hold that against the film though. After all, trying to be completely original and 100% unpredictable is something that died out long ago. Still though, you should definitely give this one a go.
Chris Weber
Super Reviewer
A well-done, gritty drama about addicts led by a charismatic young man (Matt Dillon) who rob drug stores along the West coast in order to clinch their drive to be high at all times. Dillon is sensational in the lead role as a man whose aimless life keeps on taking turns for the worse that he somehow gets out of each time due to sheer luck, and instead of squandering his chances to start his life anew, his character battles to find redemption despite his clinging urges to stay on the path he is on. Gus Van Sant's direction is phenomenal, striking a nostalgic tone to this film as he shows the characters dancing and goofing around below bridges, unaware and uncaring about the path their lives are on. Van Sant gives us a convincing, harrowing look at the lives of people addicted to prescription drugs, and despite the somewhat predictable turn his story ends up taking, it still gives the viewer hope that not all is lost amongst the drug-addled bodies of these characters. An experimental film with an indie vibe, and not for all tastes, but a very good motion picture.
Dan Schultz
Super Reviewer
Drugstore Cowboy Quotes
| | |
| --- | --- |
| Dianne: | God damn it Bob? Why ya always gotta fix in the car? |
| | |
| --- | --- |
| Bob: | You don't see people like me here. People like me kick alone in a holding cell. |