Du Barry Was a Lady
(1943)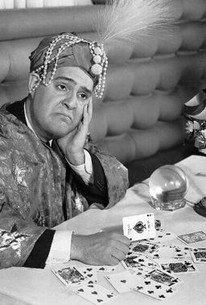 AUDIENCE SCORE
Critic Consensus: No consensus yet.
Du Barry Was a Lady Photos
Movie Info
The racy, ribald Cole Porter musical Du Barry Was a Lady is here given a thorough dry-cleaning by prudish MGM. Richard "Red" Skelton takes over the role of Louis Blore (played on Broadway by Bert Lahr), while Lucille Ball steps into the shoes of the original play's Ethel Merman. The story proposes that Blore is a men's room attendant in a New York nightclub who has a yen for gorgeous showgirl May Daly (Lucille Ball). After drinking a potent mixture, Louis dreams that he is King Louis XV of France, and May is the magnificent Madame Du Barry. Also showing up in Louis' dream is Alex Howe (Gene Kelly), who in "real life" is the guy who ends up with May at fade out-time. It's hard to determine what's more fun to watch in Du Barry Was a Lady: the three stars, the antics of supporting player Zero Mostel, or the incredible sequence in which Tommy Dorsey & His Band -- including drummer Buddy Rich -- perform in 18th century garb and powdered wigs. Five of the original Cole Porter songs are retained for this Technicolor-ful film: "Katie Went to Haiti," "Do I Love You, Do I?," "Well, Did You Evah?," "Taliostro's Dance,", and, best of all, "Friendship." ~ Hal Erickson, Rovi
Critic Reviews for Du Barry Was a Lady
Audience Reviews for Du Barry Was a Lady
Copying movies like Wizard of Oz, the character in this movie dreams he is King Louis XV. This movie is silly and predictable, I don't recommend it.
Du Barry Was a Lady Quotes
There are no approved quotes yet for this movie.