Duck Season (Temporada de patos)
(2006)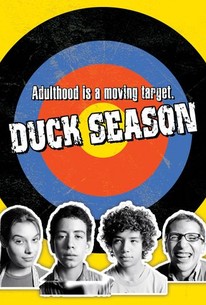 TOMATOMETER
AUDIENCE SCORE
Critic Consensus: This modest cinematic slice-of-life manages to subtly capture many small but resonant and truthful moments of adolescence.
Duck Season (Temporada de patos) Photos
Movie Info
A typical lazy Sunday gives way to an introspective look at what it means to grow up for two 14-year-old boys left alone for the afternoon in director Fernando Eimbcke's gentle coming-of-age comedy. With the parents away and the Xbox all to themselves, best friends Flama (Daniel Miranda) and Moko (Diego Cataño) plant themselves in front of the television and prepare for a fun afternoon of junk food, soda pop, and video games. As the battle to the death rages on the television, Flama's 16-year-old neighbor Rita (Danny Perea) knocks on the door to ask if she can use Flama's oven to bake a cake. When disaster strikes in the form of a deathmatch-killing power outage, Flama and Moko hang up the video-game controllers and call the local pizza parlor in hopes that the delivery man won't make the 30-minute guarantee and they will get a free pie. With a stopwatch in hand and the clock ticking, hapless delivery driver Ulises (Enrique Arreola) arrives precisely 11 seconds late. As the power flickers back on and the stubborn boys insist that their pizza should be free, Ulises contests their claim before agreeing to battle Moko in a video soccer match that will determine once and for all if the boys will pay for their pizza. Their game foiled by yet another unexpected blackout, the bored teens begin contemplating the strange behavior of adults, and the role that a painting of ducks plays in the bitter divorce of Moko's parents.
Critic Reviews for Duck Season (Temporada de patos)
Audience Reviews for Duck Season (Temporada de patos)
½
What to do in a monotonous sunday? Sundays are always boring, anyway. But if the lights go off and you can´t play videogame anymore? You deliver a pizza, of course, but why not making a cake maybe? Duck Season shows in a very simple but effective way the banality and not always obvious complexity of a generation growing up in a society of trash food and trash culture. Nothing really happens at the same time that everything does: discovery of sexuality, first kiss, divorce, parent´s absence, loneliness. The pizza delivery man represents, perhaps, the future: as it´s possible to survive to a sunday, maybe it´s not possible to avoid the inevitable frustration...


Rubia Carolina
Super Reviewer
A black and white meditation on boredom, young lust and determination in the face of nothing better to do and being young enough to know that you've got to make the most of it. Of course, the whole movie is an expression of friendship. What better way to show you love someone than to hang out with them all day doing nothing? Pot Brownies, porn and pizza help these kids along the way.
El Hombre Invisible
Super Reviewer
After all those great things I'd heard about this my expectations were high but..., Not a bad film but tries so hard to be simple that almost loses it, I hope Matando Cabos will be better
Duck Season (Temporada de patos) Quotes
There are no approved quotes yet for this movie.