Red Green - Duct Tape Forever
(2002)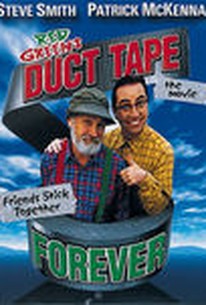 Movie Info
In order to pay off the steep fine accrued after a businessman has sued the Possum Lounge, Red Green's (Steve Smith) cousin Harold (Patrick McKenna) suggests that the lodge members join in the Duct Tape Contest being held in Minneapolis, MN. Though the goal is intimidating -- they have to create an object comprised of at least 80 percent duct tape -- the 10,000-dollar purse for winning third place is the exact amount needed to pay off their newfound debt. It looks like a duck made entirely out of duct tape is their ticket to the bronze, but the men find themselves facing a variety of unexpected obstacles on their way to the city. Not only are Red and Harold going through a rough patch in their friendship, but the smarmy businessman has paid off local authorities to make sure that the lodge members would be unable to pay the fine. ~ Tracie Cooper, Rovi
Critic Reviews for Red Green - Duct Tape Forever
Audience Reviews for Red Green - Duct Tape Forever
Charming movie, as only the Canadians can do. Based on the "Red Green" television show. I like Steve Smith's character. It's dorky but got a lot of heart. They should've had a love interest for Red Green in this movie.
Lafe Fredbjornson
Super Reviewer
Red Green - Duct Tape Forever Quotes
There are no approved quotes yet for this movie.