Dudley Do-Right
(1999)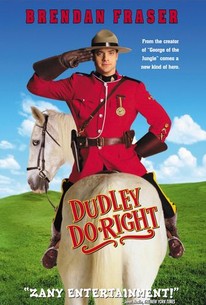 Movie Info
After giving George of the Jungle human form, Brendan Fraser returns to cartoon-land with another live-action update of an animated TV classic. Set in the peaceful village of Semi-Happy Valley high in the Canadian Rockies, our story focuses on Dudley Do-Right (Fraser), a member of the Royal Canadian Mounted Police who never lets his lack of intelligence get in the way of his dedication and determination to get his man. Dudley's superior, Inspector Fenwick (Robert Prosky), displays a bemused tolerance towards Dudley's enthusiastic ineptitude, and Dudley is beguiled by the Inspector's daughter, Nell (Sarah Jessica Parker), who has made a home in Seattle after traveling the world, but is now paying her father an extended visit. Before Dudley can make much of a (positive) impression on Nell, the evil Snidely Whiplash (Alfred Molina) enters the picture. Determined to take Semi-Happy Valley for everything it's worth, Snidely sends Dudley in search of vampires hiding in the woods, and, while he's away, plants gold nuggets in a nearby stream. When a prospector (Eric Idle) happens upon them, word gets out that Semi-Happy Valley is gold country. Quickly opening a string of businesses to cater to the flood of would-be gold miners, Snidely becomes the town's richest citizen, and Semi-Happy Valley is even renamed Whiplash City. Snidely's fame and wealth gain Nell's attention, while Dudley's search for vampires causes the Inspector to fire him. However, in time, Dudley realizes that something is afoot, and he is determined to expose Snidely Whiplash and bring him to justice. Director Hugh Wilson wrote and directed the first film in the Police Academy series; Dudley Do-Right was his second directorial credit of 1999 with Brendan Fraser, after they worked together on Blast From the Past.
Critic Reviews for Dudley Do-Right
Audience Reviews for Dudley Do-Right
Brendan Fraser has a career with odd choices and this film is a prime example. The silly child like humour appears to be aiming for the George of the Jungle crowd but the storyline is a gigantic mess. The film was a huge box office bomb and it's easy to see why, my first question is how the hell did they spend 70 million on this film? At no stage can you see the value on the screen, it looks like everybody loaded their pockets and phoned it in. The narration is utterly useless and uninspiring, why they kept this is beyond me. The whole idea of this film is crazy and you can see why this film failed. Who was the audience of this film? They don't appear to be aiming strictly at children but the humour is low brow, so immature that it's tough yo watch. They needed more pulp humour and a more focused director in charge, massive disappointment. 10-11-2017.
Brendan O'Connor
Super Reviewer
Brendan Fraser is a living cartoon character. In every film I've seen him in, he has zany characteristics and gives cheesy smiles at the camera. Even in "The Mummy", I feel like I'm watching an action-packed cartoon series. Universal tried to cash in on the success of Disney's "George of the Jungle" adaption with Brendan Fraser by putting him in a theatrical adaption of another Jay Ward (creator of "George of the Jungle") toon, "Dudley Do-Right". The film felt like a quest to find a plot! The film is about a clumsy mountie named Dudley Do-Right (because he's always doing right!) who must stop his long time nemesis, Snidley Whiplash, from taking over Semi-Happy Valley. The rest is just a whole bunch of plot threads who were abused by hardly being developed. Fraser is doing what he does best: acting weirdly. So I consider him to be the best actor in the film. Alfred Molina speaks in a annoying cartoonish voice. It worked sometimes at got out of hand for the remainder. Sarah Jessica Parker was acting terribly. She looked like the thought, "I'm getting paid for this, right?", ran through her head throughout her screen time. Supporting cast: LAME! Not even Eric Idle helped. The humor is so flat! Eric Idle was not funny and so was Alfred Molina. Not even the "Pokemon" reference helped! When I did find something amusing, I replied with dry chcukles. I just wonder how much they paid the writer, Hugh Wilson. The other stupid thing was the opening credits. The titles, "Written by Hugh Wilson" and "Directed by Hugh Wilson", are seperate. Were they just too lazy to put "Written for the screen and directed by Hugh Wilson"? Laziness, people! Laziness! The film was even unsure of itself. It felt and anachronistic and bored of itself. The film was just lazy. It was flat, lazy, and supplied very little to children. Low on slapstick. What a shame. "Dudley Do-Right" is a do-wrong. The "George of the Jungle" movie was more butch and that live-action "Flintstones" movie had more dignity than this. Come on, Hollywood! Come on!
Bentley Lyles
Super Reviewer
Leigh Ryan
Super Reviewer
Dudley Do-Right Quotes
There are no approved quotes yet for this movie.