Duel in the Sun
(1946)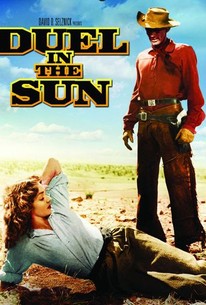 Movie Info
In this film, Jennifer Jones stars as half-breed Pearl Chavez, whom everyone has tagged as a "bad girl." She is taken into the home of wealthy, greedy rancher McCanles. Almost immediately, Pearl becomes the object of an emotional tug-of-war between McCanles' virtuous son Jesse and wicked ne'er-do-well offspring Lewt.
Critic Reviews for Duel in the Sun
Audience Reviews for Duel in the Sun
½
Originally I had no intentions of seeing this, but, due to the fact that it really angered the Catholic Church back in the day, and the fact that Martin Scorsese, known for his great taste, holds this in high regard (it was the first film he ever saw), I finally got curious and decided to give it a watch and... ...frankly this film is kind of a joke. It's a big, grand, melodramatic western romance that tries to be the western equivalent of Gone With The Wind, and doesn't quite make it there. This is a grand and gorgeous film, but it's also an overlong, overblown, and rather silly soap opera. The plot follows a half breed beauty named Pearl who goes to live with some wealthy relatives after her father is executed for killing his unfaithful wife. Pearl doesn't get on too well with the patriarch, but when it comes to his two sons, well, that's a different story. She falls in love with one, and in lust with the other, with the bulk of the film being a sordid love triangle that, sue, in the mid 40s probably was scandalous due to the sexual tensions and innuendos, but today comes off as tame, and really ridiculous and silly. The film has some okay performances though, like Jennifer Jones as Pearl (though she's not really that believable as a half-breed) and Gregory Peck and Joseph Cotton as the two brothers Pearl is torn between. Lionel Barrymore and lillian Gish are also around, and they help elevate the material some, but even then this is still a bit of a mess, though at least an ambitious one. The film does look great though, with some stunning cinematography and camera work, as well as some decent music,. Unfortunately, this is a very dated picture that's also quite boring. Maybe if this were far shorter it would be a lot better. All in all, I can give this some respect on a technical level, and a bit in the acting area, but overall I can't say I totally liked this.
Chris Weber
Super Reviewer
½
well, after making fun of this for years, i finally watched it and it was pretty damned entertaining. jennifer jones pulls some weird faces and tiomkin's score is too bombastic as usual, but it kept me interested throughout. i don't get the allegations of racism here. do people think no one ever used the word halfbreed? that ending is still pretty silly but easier to take in context
Stella Dallas
Super Reviewer
½
David O. Selznick's misguided attempt to recreate the success of GWTW in a western setting. The film has pleasures to be sure but also some woefully terrible parts. On the plus side: the cinematography is gorgeous and some of the supporting performances are good, Lillian Gish and Charles Bickford come off best. However there are some fatal flaws: a meager story to pin two and a half hours of film on and an overly earnest tone are two big deficits but what really hurts the film the most is the complete miscasting of the two leads. Gregory Peck was a fine actor but he was also an icon of resolute decency, whereas other actors with that persona like Henry Fonda could occasionally play a villain convincingly Peck could not. His casting alone would not be so bad if it wasn't paired against the absurdity of Jennifer Jones as Pearl. While I'll admit to never being a fan of hers within a limited range she could be an okay actress when the role wasn't too demanding, for instance The Towering Inferno. Pearl Chavez is far outside that scope, the part isn't really that good to begin with, even an actress as skillful as Vivien Leigh would probably been hard pressed to make her real although Ava Gardner with her raw sensuality could have made her work, but Jones mistakes over emphasis with depth and Vidor's florid style of direction doesn't help her. Part of the blame probably rests with Selznick's famed smothering control and that fact he was determined to make Jones the greatest of all stars which resulted often in putting her in material for which she was not suited and away from her strengths as a performer. The film is entertaining in an often campy way but one viewing should be enough.
Duel in the Sun Quotes
There are no approved quotes yet for this movie.