The Dukes
(2007)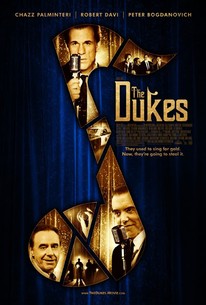 Movie Info
Actor Robert Davi steps behind the camera to direct himself, Chazz Palminteri, and Peter Bogdanovich in The Dukes. The title comes from the name of a doo-wop act that at one time had the most popular song in the country. Decades later, the group desperate for cash, the musicians decide to work together to pull off an ill-conceived heist.
Critic Reviews for The Dukes
Audience Reviews for The Dukes
Great film. Congrads on Robert Davi on making a really good film. The film is better than half of the films that are playing right now. Davi did a great job both directing wise and acting wise. He has a great on screen chemistry with Chazz Palminteri, who is also hilarious in the film. The film kind of reminded me of the movie, The Crew, with Richard Dreyfuss and Burt Reynolds. The Crew was a better film than this. However, I still liked The Dukes and recommend it.
As soon as it started, I immediately didn't like it. I think I got to about 37 minutes before I turned it off.
Sarah Prisbylla
Super Reviewer
The Dukes Quotes
There are no approved quotes yet for this movie.