The Dukes of Hazzard
(2005)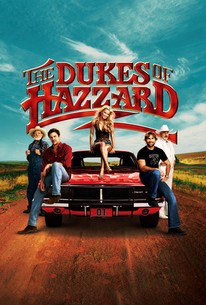 TOMATOMETER
AUDIENCE SCORE
Critic Consensus: A dumb, goofy, and vacuous adaptation of a TV show where plot is simply an excuse to string together the car chases.
The Dukes of Hazzard Photos
Movie Info
The General Lee is back and so are the Duke boys in this big-screen adaptation of the hit TV series, brought to you by Jay Chandrasekhar of the Broken Lizard comedy troupe. Set in the "present day," the story follows Bo (Seann William Scott) and Luke (Johnny Knoxville) as they cruise around Hazzard County and wreck havoc in their classic 1969 Dodge Charger. Together with their scantily clad cousin Daisy (Jessica Simpson) and moonshining Uncle Jesse (Willie Nelson), the two good old boys battle the corrupt county commissioner Boss Hog (Burt Reynolds) when he and local Sheriff Roscoe P. Coltrane (M.C. Gainey) threaten to take away the family farm. John O'Brien has the lone writer's credit on the film, though additional uncredited rewrites were handled by the Broken Lizard gang. ~ Jeremy Wheeler, Rovi
News & Interviews for The Dukes of Hazzard
Critic Reviews for The Dukes of Hazzard
Audience Reviews for The Dukes of Hazzard
Not too sure where I stand with this update of the classic kids show. This is one of those times where making a film for the younger audience is probably the best option yet they went the other way. The main problem here is the fact that The Dukes of Hazzard was a TV show primarily for kids. It was light-hearted and had the same kind of theme as other classic TV shows like The A-Team, Knight Rider and Airwolf. This new film takes that kind-hearted approach and throws it out of the window to make room for a new crude, vulgar version with tits and ass. I will admit that at times the film is good fun, the massive car chase sequence at the end is a tornado of great stunts that is tremendous fun to watch. Much like the classic car chases in 'The Blues Brothers' its amazing to see the famous Dodge Charger hurtle down the freeway and leap higher and farther than ever before. Unfortunately this is about as fun as it gets for both thrills and whimsical retro goodness. The rest of the film really is a nasty cheap-ass pile of stereotypical cliches in a bad straight to DVD National Lampoon's kinda way. The main casting of Knoxville and Scott as Bo and Luke was terrible and gave the game away immediately as to what direction the film was going in. Even Simpson as Daisy was a bad choice, your everyday boring over-tanned blonde Barbie doll wannabe with luminously bleached teeth. Yes she was sexy in her tight Levi cutoffs and lets be honest this character ain't here for intellectual conversation, but she was also vacuous with no character whatsoever. The bad casting continued with Reynolds as Boss Hogg who had no presence in the film at all. Just a big name for the advertising and a very weak performance. Overall its a very mixed bag as there is some nice car porn in here but quite simply its a very bad adaptation of the TV show. Seeing the old General Lee zoom around is the most enjoyment you're gonna get outta this...if you grew up with the show that is (or you're a petrolhead). Shame they also had to drag the modern day PC bandwagon into the fray. They just had to include present day politics didn't they, couldn't let that go, exactly why this should not have been set in the present day. Not to be taken too seriously of course but you know deep down the original TV show is slightly frowned upon these days *groan*. Unfortunately this is a rather sour spin on the TV show and spoils its good name. Chock full of needless cameos, way too glossy, hints at soft porn, crass and with added toilet humour. Basically its 'American Pie' and 'Jackass' injected into a much loved old TV show which is totally unacceptable frankly. This is exactly what Stiller and co didn't do for their classic TV show adaptation and look at the difference in quality. Don't show this to your kids and avoid yourself.
Phil Hubbs
Super Reviewer
........Wait, this is a movie?
The worst motion picture of all-time.
Matt Goodman
Super Reviewer
The Dukes of Hazzard Quotes
| | |
| --- | --- |
| Uncle Jesse: | You know what you get when you cross a donkey with an union? |
| Luke Duke: | What? |
| Boss Hogg: | A piece of ass that brings a tear to your eye! |
| | |
| --- | --- |
| Uncle Jesse: | You know why divorces are so expensive? |
| Luke Duke: | Why? |
| Uncle Jesse: | Because they're worth it! |
| | |
| --- | --- |
| Daisy Duke: | I think somethin' bounced up in my under carriage. |
| Daisy Duke: | I think something bounced up in my undercarriage. |