Dumbeast (Donju) (Dumb Animal)
(2009)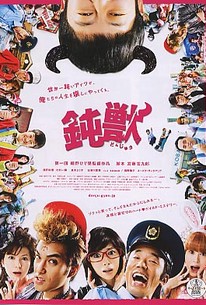 AUDIENCE SCORE
Critic Consensus: No consensus yet.
Movie Info
An especially dull-witted young novelist goes missing and a subsequent investigation uncovers various plots by his friends to murder him-presumably for revealing a childhood secret through the increasingly-popular stories.
Critic Reviews for Dumbeast (Donju) (Dumb Animal)
There are no critic reviews yet for Dumbeast (Donju) (Dumb Animal). Keep checking Rotten Tomatoes for updates!
Audience Reviews for Dumbeast (Donju) (Dumb Animal)
½
Based off of the stage play by the same name, Hideaki Hosono's Donju is a refreshing comedy out of Japan.
Despite a fairly simple plot involving murder, there is enough material to occupy the entire 100+ minutes of this picture and instead of dropping some sort of huge revelation, Donju uses multiple small twists throughout the story to keep things moving along, almost as if this film could be broken up into episodes. The style is highly playful and flashy, yet there is a little dark and mysterious feeling that goes along with it.
There is some minor usage of CG and even some animation segments to reveal some story details. The costuming and some of the few major settings are also colorful, which creates a comical film visually.
The eccentric characters are enjoyable and the six major actors carry this film well. Tadanobu Asano, Kazuki Kitamura, Yusuke Santamaria, Yoko Minamino, and Aimi Satsukawa deliver the more lively performances. Yoko Maki has the lone somber role, which is a good contrast to the rest of the main characters.
Overall, Donju isn't drop dead hilarious, but everything pieces together to make one entertaining piece of work.
Dumbeast (Donju) (Dumb Animal) Quotes
There are no approved quotes yet for this movie.