Dumbo
(2019)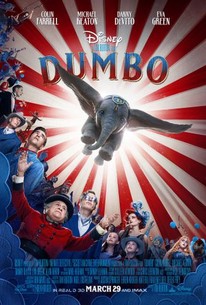 TOMATOMETER
AUDIENCE SCORE
Critic Consensus: Dumbo is held partly aloft by Tim Burton's visual flair, but a crowded canvas and overstretched story leave this live-action remake more workmanlike than wondrous.
Movie Info
From Disney and visionary director Tim Burton, the all-new grand live-action adventure "Dumbo" expands on the beloved classic story where differences are celebrated, family is cherished and dreams take flight. Circus owner Max Medici (Danny DeVito) enlists former star Holt Farrier (Colin Farrell) and his children Milly (Nico Parker) and Joe (Finley Hobbins) to care for a newborn elephant whose oversized ears make him a laughingstock in an already struggling circus. But when they discover that Dumbo can fly, the circus makes an incredible comeback, attracting persuasive entrepreneur V.A. Vandevere (Michael Keaton), who recruits the peculiar pachyderm for his newest, larger-than-life entertainment venture, Dreamland. Dumbo soars to new heights alongside a charming and spectacular aerial artist, Colette Marchant (Eva Green), until Holt learns that beneath its shiny veneer, Dreamland is full of dark secrets.
News & Interviews for Dumbo
Audience Reviews for Dumbo
½
Director Tim Burton has always been attracted to the weirdos, the outsiders, the freaks, so it seems fitting that he attached his name to a big-budget, live-action remake of Disney's 1941 animated film of the flying pachyderm, Dumbo. As we enter a precipitous new age of Disney live-action over saturation, each new remake must be asked the question, why does this film need to exist? I feel like we can classify the glut of live-action remakes into two categories, namely the older, less revered films and the newer, more revered. Take for instance two 2016 remakes, The Jungle Book and Pete's Dragon, as both films felt enough distance from their sources' release that they had the comfort to be different. In the case of both movies, especially the beautifully lyrical Pete's Dragon, I'd say they are improvements. But those movies are old and the nostalgia for them is minimal. That's the not the case for films like Beauty and the Beast and Aladdin and The Lion King, where the originals are beloved by an audience that still remembers them fondly and vividly, now slightly older, and looking for fidelity rather than artistic invention. When the live-action 2017 Beauty and the Beast, an otherwise dreary and pointless remake of a new classic, makes a billion dollars, Disney has a pretty clear indication of what the wider audience wants with their remakes. Dumbo is a movie that actually has some room for new artistic life, especially with a talent like Burton adding his own signature dash of razzle-dazzle. There are some things from the source material that could use further examination, like animal abuse, and some things from the 1941 original that could deservedly be eliminated, like the racist "Jim Crows." It may be early but I think Dumbo will be my favorite of the 2019 Disney remakes. There's an enjoyable sense of whimsy and wonder to the film that also belies a darker underbelly, something that Burton has featured since Beetlejuice and Edward Scissorhands. Early on, Burton and screenwriter Ehren Kruger (Ghost in the Shell, The Ring) establish the world by returning dear old dad back but with one less arm. It undercuts the reunion and also leads to a crossroads of mounting questions about his viability as a performer and adaptability. The children and the father are the real stars of the film, a family trying to reconfigure their new identity in the absence of their mother and the readjustment of their father after he can no longer be a headliner. It's enough to ground the movie emotionally and provide a sense of stakes. The motley crew of circus performers and sideshow acts serves as a non-traditional family unit, a found family, and one fighting for their own slice of dignity. I'm likely reading more into this than intended but the fact that I can shows that Burton and company at least put in solid efforts to stake a foundation. The wonderfully macabre, askew Burton elements are present as well, especially in the production design for Dreamland, which looks like another fantasy neighborhood straight out of Halloweentown in Nightmare Before Christmas. The presence of Eva Green is another enjoyable highlight as a French acrobat that becomes close to Dumbo and the Farrier family as a whole. It's sweet with a little touch of the eccentric, which is another fine way of describing Max Medici and DeVito's affectionate performance. There is an offbeat sense of humor to and visual whimsy to the film that works with the standard heartwarming family elements rather than against it. It's a movie that can hit you in the gut and then make you smile the next minute. Dumbo is less a character than he is a symbol, but it works for the most part even if it hampers the larger storytelling prowess of the film. He's a symbol for every person to import their own feelings, an outsider who feels like they do not belong. He's also a symbol of innocence as a gentle animal, something to tug at the heartstrings when he's mistreated or separated from his mother. It's hard not to feel something when the camera gets the special close-up for his big, soulful eyes. He's even more sad looking in garish clown makeup. The animal rights angle isn't heavy-handed but enough to get you feeling sympathy for poor creature. It sets up a big escape to reunite mother and son and free them from captivity that reminded me of a 90s kids movies, but not necessarily in a negative way. I think that's one of the achievements of Burton's movie is that he has reshaped an older children's movie model with his unique touches. It's a far more successful alchemy than 2010's dull Alice in Wonderland. At its core, Dumbo is an enjoyable if limited remake, a movie that sets its ambitions low but sets out to try a few different things with modest success. There are some scenes that go too far, whether it's the extended reaction shots of crowds vocally heckling an elephant, or a pretty lazy message that we can all be special because of what we have inside, that reminded me what the finished film could have been, namely far worse. It doesn't quite soar but it does rise above my expectations and kept me pleasantly entertained. Nate's Grade: B
Nate Zoebl
Super Reviewer
½
After the numerous adaptations of their classic animated films, it should come as no surprise that Disney will be continuing their run in doing so, seeing as they've been incredibly successful, for the most part. Dumbo is the latest big screen, live-action adaptation of one of their classics, and although it does do plenty to differentiate itself from the original film, it makes many stumbles along the way. Dumbo is great for all ages, but I do feel that many adults, and even some children, will probably find themselves bored throughout the majority of this movie. After an elephant gives birth to a unique youngling with giant ears that give him the ability to fly, certain events drive he and his mother apart, making for a heavily emotional experience. As the circus owners make new deals and bring their new elephant (who eventually becomes known as Dumbo) to a new location, not many things go their way. The original film was a solid classic, due to its simplicity, but this is a movie that takes that simplicity and gets it over with throughout the first act, which is easily the weakest aspect to the movie as a whole. The core story of the original is learning that this young elephant may have the ability to fly, but he can pretty much fly after birth here and the movie takes itself in a completely new direction, which also created a slow pace and an uneventful story. Upon completion of the first act, this movie quickly comes to a halt. There are a few endearing moments and even a few images or lines of dialogue that nearly brought me to tears, but they were very few and far between, to really create a real emotional impact. Where this film soared, however, was in its cast. From Michael Keaton to Colin Farrell (who both give very cheeky performances), Alan Arkin to Eva Green, and even the children in Nico Parker and Finley Hobbins, this is a devoted cast that is clearly having fun. Although those performers are the ones who would normally get all the praise these days, Danny DeVito is the best he has been in years. Through all of this films numerous missteps, he stole every scene he was in and kept a smile on my face throughout. If for nothing else, this movie benefits from a fantastic turn by DeVito. In the end, this is definitely one of the weakest Disney adaptations from animated to live-action, but Dumbo wasn't a film that everyone was yearning for to begin with, so that's why I think it will slowly fade into the shadows of the great ones. With a solid score by Danny Elfman and some unique flare brought by director Tim Burton, this is a film that has a lot of potential, but the script took this movie in many unnecessary directions, creating a very boring experience. I can't get myself to recommend this movie to many people. Even though it has a wide appeal for kids, I truly believe the majority of this movie would even bore them. A decent attempt, but ultimately disappointing.
Dumbo Quotes
There are no approved quotes yet for this movie.