Dungeons & Dragons: Wrath of the Dragon God
(2005)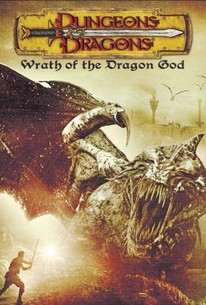 AUDIENCE SCORE
Critic Consensus: No consensus yet.
Dungeons & Dragons: Wrath of the Dragon God Photos
Movie Info
Put down that 24-sided die and return to the fantastic world of Dungeons & Dragons in this magical adventure from director Gerry Lively. A black dragon has gone on a rampage, but this is no ordinary dragon. Controlled from afar by an evil wizard using a magical orb, this dragon can only be defeated by defeating its nefarious master. As a sorceress and a warrior combine their strength to journey to the wizard's castle and put an end to the black dragon's reign of terror, the road to peace is filled with deadly obstacles at every turn. ~ Jason Buchanan, Rovi
Critic Reviews for Dungeons & Dragons: Wrath of the Dragon God
Audience Reviews for Dungeons & Dragons: Wrath of the Dragon God
½
Not really much better than the first film, are you surprised?, in fact the effects are less impressive and less frequent also making the film rather dull to say the least...again would this be a surprise?. Payne reappears in this sequel despite seemingly being killed convincingly in the first film (minus his blue lipstick) but this time he's up against a team of five challengers. These five challengers/adventurers are the most boring and unimaginative looking set I've seen in an adventure film, surprisingly female orientated the team look drab and silly yet admittedly close to D&D lore but uninspiring none the less. The whole film is pretty dull really with nothing much happening right up until the end where there is some decent dragon action, I think D&D followers will get more of a kick out of this but newcomers will be less enthralled. I have seen worse but this isn't quite as cheesy as the first, now that must be a surprise. Nice poster art though.
Phil Hubbs
Super Reviewer
The second fantasy adventure movie based on the role-playing game is not entirely as disappointing and silly as the first one but only slightly better and still not really recommendable for anyone but the fans. While they might get a kick out of recognizing spells, skills and character features even they should cringe at the horrible CG effects for the monsters. With a little more effort on dialoges and special effects this really could have been classified as good, the story and characters had potential but would have needed more attention. Nice try, but still far from the masterpieces of the genre.
This while cheesy in all aspects feel just like your watching a D&D game play out and for that it hits it target audience and isnt that bad overall.
John Manard
Super Reviewer
Dungeons & Dragons: Wrath of the Dragon God Quotes
There are no approved quotes yet for this movie.