Dunston Checks In
(1996)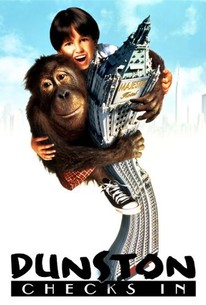 Movie Info
A nervous hotel manager has all sorts of monkey business to deal with (actually orangutan business, but you get the idea) in this comedy for the family. Robert Grant (Jason Alexander) is the manager of The Majestic Hotel, a large and highly luxurious five-star facility. Grant is harried, overworked, and wants to take his two sons, Kyle (Eric Lloyd) and Brian (Graham Sack), on a well-deserved vacation, but when the owner of the Majestic, Mrs. Dubrow (Faye Dunnaway), hears that the hotel is being considered for the newly-minted and very prestigious six-star rating by the Le Monde Guide, it falls on Robert to make sure that everything is perfect when the guide's staff arrives. Since the inspectors will arrive unannounced, Robert has to chase after anyone who looks like they could be a VIP, so he finds himself giving the star treatment to new guest Lord Rutledge (Rupert Everett) when he spots Rutledge using a pocket camera to snap pictures in the lobby. However, Rutledge is actually a skilled jewel thief who has come to the Majestic to take advantage of its wealthy clientele, and he's arrived with his pet orangutan, Dunston, who has been trained to be Rutledge's partner in crime. Dunston gets lost in the hotel's air duct system; Kyle finds the friendly ape and discovers he makes a great playmate, which makes things all the more difficult for Robert. Paul Reubens (aka Pee Wee Herman) also appears as a trigger-happy animal control officer. ~ Mark Deming, Rovi
News & Interviews for Dunston Checks In
Critic Reviews for Dunston Checks In
Audience Reviews for Dunston Checks In
Did the world really need another kids movie with an animal? No, but at least the movie isn't terrible. It's got a couple of funny scenes.
Loses my interest about five minutes in.
Tim Salmons
Super Reviewer
You might expect "Dunston Checks In" to be a kiddy or cutesy show, and in a way it is, but it can also be a good family movie for anybody who likes comedies. A manager of a 5-star hotel in New York, Mr. Grant (Jason Alexander), has a great job, but he has to watch every step he takes because if he makes one mistake in the eyes of the owner, Mrs. Dubrow (Faye Dunaway), he could lose his high paying job and go from living in a 5-star hotel to something not so nice. Mr. Grant has two kids to raise, but things just might go haywire when an orangutan starts hanging out at the hotel. But not to fret, not only is the orangutan named Dunston real smart, he can also make simple things hilarious. "Dunston Checks In" isn't a groundbreaking comedy and it's not that original, but it is fun to watch, and it can be funny. I recommend anybody who likes comedies that feature an animal as the main star to at least rent "Dunston Checks In," if not buying it. NOTE: That was my Amazon review from the year 2001. Something about this movie I always loved and have watched it several times. It's not Jason Alexander, the orangutan, or anything, just the culmination of it as a whole somehow works to a charm.
Jason Owens
Super Reviewer
Dunston Checks In Quotes
| | |
| --- | --- |
| Victor: | Why is he talking to his crotch? |
| | |
| --- | --- |
| Lord Rutledge: | Do you know what my specialty is? I can make nosy little boys.. disappear! |
| | |
| --- | --- |
| Lord Rutledge: | Don't you spank your hairy bottom at me!! |
| Lord Rutledge: | Don't you spank your hairy bottom at me! |