Duplex
(2003)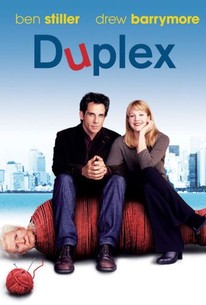 Movie Info
Just how far would you go to have the home of your dreams all to yourself? A couple start asking themselves that very question in this dark comedy directed by Danny DeVito. Alex (Ben Stiller) and Nancy (Drew Barrymore) are a young couple who are happy and successful, but lack one thing that they truly want -- the perfect home in Manhattan. Alex and Nancy think they may have found just the place they've been looking for when they discover the bottom half of a beautiful old duplex has opened up. While the couple are delighted with their new flat, they discover it has one major disadvantage they hadn't counted on -- their upstairs neighbor, Mrs. Connelly (Eileen Essel), an elderly woman who soon makes their lives a living hell. Persuading Mrs. Connelly to move is fruitless, since she has a long term rent-controlled lease, and as things become more and more difficult, Alex and Nancy begin to wonder if she won't go away on her own, perhaps a more drastic (and permanent) solution may be in order. Duplex also stars Harvey Fierstein, Justin Theroux, James Remar, and Swoosie Kurtz.
Critic Reviews for Duplex
Audience Reviews for Duplex
It is Eileen Essell who makes it a real pleasure to watch this mildly entertaining comedy that, despite its share of funny moments here and there and a good twist in the end, has not much else to offer in terms of narrative and gets less and less funny after halfway through.
Carlos Magalhães
Super Reviewer
½
"Alex and Nancy finally found their dream home... And then they moved in." Duplex is a film that baffles me, much like another Danny Devito dark comedy, Death to Smoochy. He has a way with dark humor and I loved it in War of the Roses. In Duplex, it doesn't quite work all that well though. I love the premise, but it was just missing something. The old lady is a really good character, but I don't think she's used as well as she could have been. This could have been amazing. Alex and Nancy are a happily married couple. Alex is a writer, who is currently working on his second novel. Nancy is a journalist. They find their dream home, which happens to be a Duplex. One problem though, there's an old woman living on the second floor. Alex and Nancy think she's going to die soon, so they grab the place, believing she is a sweet old woman. A lot of back and forth goes on and it turns into just another escalating bullshit driven comedy, which is sad, because I enjoyed a lot of the details put into the story, just not the character interactions.  All in all, Duplex is nothing more than an average comedy. Ben Stiller and Drew Barrymore play pretty much their same film personas. I happen to like them both, but for people who aren't fans of theirs, this is definitely not one to watch. It wasn't a complete waste of time for me. It had spells that were really entertaining and hilarious, but they were too few and far between.
Melvin White
Super Reviewer
½
I really liked the old lady. She's funny and very naughty as well. Nice movie.
Dead Angel
Super Reviewer
Duplex Quotes
There are no approved quotes yet for this movie.