Duplicity
(2009)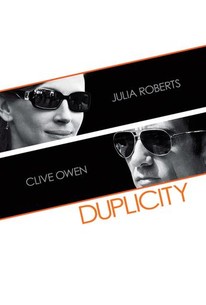 TOMATOMETER
AUDIENCE SCORE
Critic Consensus: Duplicity is well-crafted, smart, and often funny, but it's mostly more cerebral than visceral and features far too many plot twists.
Movie Info
Michael Clayton's writer/director Tony Gilroy helms this dramatic caper re-teaming Closer stars Julia Roberts and Clive Owen as two lovelorn ex-spies who join forces to swipe a valuable product from the big-business corporate landscape. Tom Wilkinson and Paul Giamatti co-star in the Universal Pictures production.
News & Interviews for Duplicity
Critic Reviews for Duplicity
Audience Reviews for Duplicity
Great performances and a delightful chemistry between Roberts and Owen help lift this intelligent, funny and well-constructed espionage film above many other similar ones, and it benefits even more from a witty dialogue and clever plot twists.
Carlos Magalhães
Super Reviewer
½
I read this recently: "Good writing takes the dull and makes it exciting; bad writing makes the exciting dull." It's hard to understand how this film fell so incredibly flat - as someone who's never been a Julia Roberts fan, it would be easy to start there, but really, she's no more or less boring than I usually find her. I had heard terrible reviews, but this premise has so much potential: two spooks get involved in a borderline-impossible long-distance relationship and plan the Big Score Perfect Exit to be happy together. So what went wrong? Simple: Too. Bloody. Busy. In Owen's best roles (Children of Men, Inside Man), he says less, not more - and when he speaks, he makes people listen. In this film, you see his pain at trying to deliver the lines as written. Maybe it's a cliche of the genre - and of course, why not try to challenge a cliche? - but spies don't talk this way, or even this much. Spy/Thriller/Mystery films, as everyone from Poe to Chandler to Hitchcock has shown, are best delivered in clipped sentences and long silences, and not the chick-flicky expository speeches we see here. And when I say silences, I mean that the music in the background - if there is any - should be understated, or at the very least, anything but the distracting, look-at-how-intriguing-we're-being! soundtrack we get with this film, accompanied by the manic, 24-style multiple split screens. They fill the time just fine, but instead of building suspense, they - like most other bits of the film - merely delay resolution. A story that stalls this often - or worse, flashes back this often, to catch you up on the central relationship's backstory - doesn't inherently build intrigue, it just frustrates the audience. The worst part is, the plot is pretty good - a bit cliche, fine, but if you do it right, I'll always forgive you. The spies, because they're spies, can't trust each fully in work or in love; there's a lot there. But when the plot hits its climax - a time-sensitive search through an office to make a copy of a secret document - we spend forever watching the team trying to find a map, to locate the copier. It was downright uncomfortable, and not in the style of The Office; I think Gilroy might have thought this had comedic potential, but it's the prime example of the frequent frustration this bloated film causes, topped only by the very last scene: as the final shot fades away, and the silence would make the point, THE CHARACTERS KEEP TALKING... and one of the lines is "It's just that bad, huh?", to which the other character cops, "Yup." My girlfriend - an actor, in passing, with improv training - asked me if I thought they might have asked to adlib that scene, and slipped in some revenge on the writer. (She would never do that, but I think Clive and Julia could get away with it if they wanted to.) Suffice to say, it is: Just. That. Bad. The rom-com cliches undo the spy intrigue, and the spy story makes the rom-com-style exposition seem extraneous. Trying to hybridize these two genres is an ambitious experiment - something for everyone! Millions of dollars! - and all experiments are valuable for what we can learn from them... I mean, Casablanca was a pretty good spy/romance hybrid... but this film, on the other hand, only taught us a lot because of its colossal failure.
Daniel Perry
Super Reviewer
This con thriller reunites Clive Owen and Julia Roberts after their great chemistry in "Closer" and they're immediately back on track. Both are playing former spies now working for multinational corporations. Whether they are allies or opponents, love or hate each other remains uncertain for the longest time. Fact is, their scenes together are a pleasure. The dialogs are fast and spot-on and even though the beginning of the film is a tad confusing about what exactly is going on, things get clearer and more exciting by the minute. The rest of the cast is great too, especially Paul Giamatti and Tom Wilkinson. The opening sequence of them fighting in slow-motion is hilarious. With the flashbacks of Claire and Ray's meetings getting closer and closer to the actual time of the plot, we slowly see through the maze of bluffs, double-bluffs and cons and still the end hits you entirely surprising. A smart, highly entertaining and engaging film that requires its audience's attention but really pays off in the end.
Duplicity Quotes
| | |
| --- | --- |
| Claire Stenwick: | If I told you I loved you, would it make any difference? |
| Ray Koval: | If you told me or if I believed you? |
| | |
| --- | --- |
| Richard 'Dick' Garsik: | Who writes with a fountain pen? How friggin' pretentious is that? |
| | |
| --- | --- |
| Ray Koval: | Then you seduce me, then you drug me and ransack my hotel room. |