Dust Devil
(1992)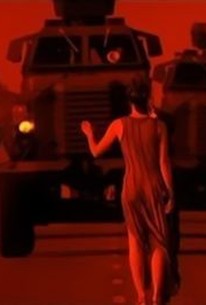 Movie Info
Across the lonely wastelands of South Africa's Nambian desert a stranger walks searching for suicidal souls to plunder. This stylish supernatural thriller chronicles one such encounter with the mysterious "Dust Devil." It all begins as the stranger kills a despondent woman and uses her blood to render magical symbols on the walls of her home before he burns it. A policeman, Ben, looks into this and other similar murders; he consults a pathologist and a local shaman and together they deduce that an unearthly being is behind the mayhem. Meanwhile, Wendy Robinson, another unhappy wife leaves her husband. She is driving down an empty road when she sees the stranger and offers him a ride. He tells her his name is Hitch and together they continue down the road. That night, Wendy considers suicide in her motel room, while Hitch patiently waits nearby. Wendy's husband Mark is busy trying to find her. Later, the curious woman rifles through Hitch's bag and finds a box full of human fingers. He finds her and attacks, but during the struggle, she escapes into the night. Enraged, he assumes his true form and follows her. In the end, the three protagonists have a climactic conflict in an abandoned desert town and tragedy ensues.
Critic Reviews for Dust Devil
Audience Reviews for Dust Devil
A strange, ominous figure prowls the desolate Namibian desert and slaughters those he meets in an apparent ritual of black magic origin, although the truth may well be even more alarming. 'Dust Devil' is an extraordinary film from director, Richard Stanley that at once manages to be chilling, creepy, surreal, elegant and beautiful. In a visual sense alone, this film is purely a masterwork with such luscious imagery that can be strikingly picturesque yet in an instant become frightfully lurid and menacing. The desolate terrain of the Namibian desert is often presented with a vivid red tint, as if the landscape itself is drenched with the blood of the Dust Devil's victims. Such magnificent, awe-inspiring backgrounds seek and succeed in evoking the purest of overwhelming feelings of desertion and thus act as the ideal environment for such a daring and challenging film. The character of the Dust Devil (played by Robert John Burke) when presented against the mesmerising background has a strong, commanding presence and blends into the ocular grandeur as if part of the desert. One could also draw parallels between the visual delights on display here and that in the finest spaghetti westerns. To appreciate the visual splendor of 'Dust Devil' is to grasp just the very basics of what is a unique, intelligent horror film. Laced with symbolism and subtlety, Stanley has obviously put a great deal of thought and effort into creating a fantastically intricate world where what one sees can not necessarily be believed and every moment appears to provide more insight into what will come. If perhaps let down somewhat by a failed socio-political commentary, the superlative qualities of 'Dust Devil' are copious enough to ensure that little damage is done to the overall production. Accompanying the evocative imagery is a haunting soundtrack blending elements of tribal chanting with music similar to that which can be found in Italian western movies. Although the simplicity of the soundtrack is apparent, the utilisation is incredible and it contributes heavily to an induced sense of apprehension and dread. The seemingly sparse and controlled use of the sometimes menacing, sometimes graceful music gradually draws one into the film and allows one to experience the movie, rather than simply watch it. The production is then completed with sterling performances from the entire main cast. Robert John Burke is perfect in his role as the deceitful being, delivering his lines with quiet malevolence. Chelsea Field's takes the role of the lead female, fleeing her homeland and while her character does unfortunately remain somewhat underdeveloped, her performance is quite adept and good enough to allow an audience/character connection. South African born, Zakes Mokae (of 'The Serpent and the Rainbow' (1988)) also offers up a credible, sympathetic performance and truly excels during the scenes involving his character's own, spiritual journey. Perhaps on occasion a little too intellectual for its own good, 'Dust Devil' is a criminally overlooked film. Despite a number of grisly shots, the film almost solely relies on atmospheric build up to generate tension and steers clear from many of the ailments that modern horror movies are suffering from. Don't listen for ultra-loud bangs whenever a viewer is meant to be scared and don't look for two-dimensional teenagers this is a pure, visual horror film that is purposely confusing and builds up slowly to a near-perfect ending. If you like challenging movies, then you can't go far wrong here. Dust Devil is a tone poem on film
David Ladd
Super Reviewer
strange western occult thriller has just enough ideas to keep it afloat in a sea of 80s cheese. the acting of the two leads is dreadful. i watched the 107 mins version which makes better use of the cop and shaman characters. oddly compelling
Stella Dallas
Super Reviewer
A young woman running from an abusive marriage through the deserts of Namibia picks up a mysterious stranger on the highway to find that he is a shape shifting serial killer. I loved this film when it came out, but on revisiting it, its flaws are rather more apparent. Stanley's direction and script show some of the irritations common to films of the late 80s and early 90s; he gets a little too carried away with his own visual trappings and the trippy dream sequences are definitely a product of seeing Twin Peaks one too many times. The first third of the film is intriguing and the ending satisfying and memorable, but in the middle it loses its way with some stilted dialogue; the supernatural elements that are often mentioned are never fully explained. But by far the biggest weakness is in the performances. Robert Burke does not have the enigmatic intensity to pull off the role of the Devil and Chelsea Field has the range of a TV chef. Far better are William Hootkins as the local Police Chief and John Matshikiza as the local witch doctor, but their parts barely qualify as cameos. As a whole it still has some striking images and enough interesting ideas to make it worth watching, although more as a curiosity than a classic.
Dust Devil Quotes
| | |
| --- | --- |
| Hitch/Dust Devil: | here is no good or evil, only spirit and matter. Only movement toward the light - and away from it. -The Dust Devil |
| Hitch/Dust Devil: | Here is no good or evil, only spirit and matter. Only movement toward the light and away from it. |