Each Dawn I Die
(1939)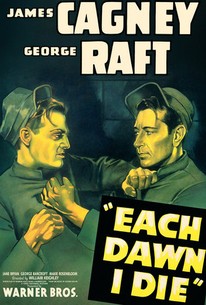 Movie Info
Otis Ferguson has said of Each Dawn I Die that "the story is of the kind you would have to see to disbelieve." And to be sure, the film is nothing more than a sampler of '30s prison-film conventions. But with the brilliant acting by James Cagney and the fast-paced and hard-edged direction of William Keighley, the film clatters past like an express train. Cagney plays Frank Ross, an innocent newspaperman who is railroaded into prison by a corrupt district attorney. In prison, he meets hardened-con Stacey (George Raft). Frank, at first, doesn't want to associate with Stacey and the other prisoners, but trapped in the hellhole prison, he more and more turns into a bitter con. Finally granted a hearing from the parole board, Frank pleads his innocence, but the parole board is headed by Grayce (Victor Jury), the man responsible for his imprisonment, and his parole is denied, and Frank becomes more hardened and embittered. By this point, Stacey has befriended him and agrees to help Frank prove his innocence. ~ Paul Brenner, Rovi
Critic Reviews for Each Dawn I Die
Audience Reviews for Each Dawn I Die
If your a Cagney fan this is a must see, he's dynamic as ever. The script is just the standard Warners 30's prison pic but it's professionally done. Raft is stiff as ever and Jane Bryan overacts terribly but if you're a fan of the genre this is as good as any of them.
After watching Each Dawn I Die you're not really going to wonder why its not one of James Cagney's more well known movies but its well worth the watch. This time out Cagney plays a tough guy reporter who gets framed for murder while trying to expose a corrupt would be politician. Inside he meets a career criminal who helps him clear his name. The first two acts are pretty solid but somewhere in the last act it kind of craps out. Its not exactly The Shawshank Redemption and its not quite Brute Force but for fans of Cagney and George Raft watching won't be wasted time.
Michael Gildea
Super Reviewer
Yet another great performance by James Cagney as a newspaper reporter who is set up by thugs and condemned to life in prison. George Raft plays a jailbird who claims to know how to help Cagney clear his name, if Cagney will help Raft escape from prison. Similar in tone and plot line to Mayor of Hell (which I saw immediately before this). Which treatment is more appropriate for prisoners -- vengeance and punishment or understanding and reform?
Each Dawn I Die Quotes
There are no approved quotes yet for this movie.