Earth
(1999)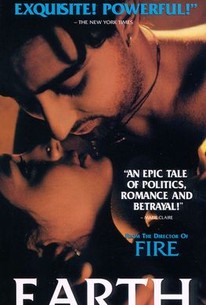 Movie Info
Deepa Mehta directs this tale about the 1947 Partition of India. Told through the eyes of an eight-year-old child, it's a story about the violence and hardships which the country endures as war spreads throughout the region. Overcoming citizens of all economic and social classes, the film mirrors contemporay situations such as the conflict in Kosovo.
Audience Reviews for Earth
It is based upon some real events, the Movie was just a Flop and I quit watching after 20 minutes. There was another Movie based up same events directed by Aamir Khan himself in mids 90`s Earth 1942 and I couldnt see any difference. Aamir Khan is a great director but mid`s 90`s he made many failure when directing.
Leigh Ryan
Super Reviewer
½
This is a movie about when Britain stopped ruling India, and the nation was split in two to form India and Pakistani, it taught me as to why those two nations don't get along, It taught me a lot of things I never knew or that they never taught me in high school, story is told through the eyes of a young girl. This is this Directors second movie, I have seen Water and that movie is worth seeing as is this movie. The women from India are beautiful that?s for sure, not only in this movie but in real life. Also the food is grate. Can only give it 3 1/2 star, as water was 4 stars. Also this Director buts out the movie Fire which I wish to see. I rented this one, but will not add to my collection as I believe it to be a one time watch only.
Bruce Bruce
Super Reviewer
Earth Quotes
There are no approved quotes yet for this movie.