Earth to Echo
(2014)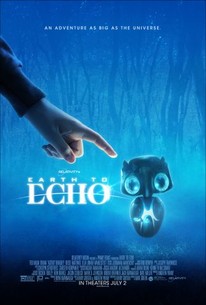 TOMATOMETER
AUDIENCE SCORE
Critic Consensus: Earth to Echo doesn't do itself any favors by beggaring comparison to E.T., but for younger viewers, it should prove a reasonably entertaining diversion.
Movie Info
In Relativity's PG summer family adventure movie, Tuck, Munch and Alex are a trio of inseparable friends whose lives are about to change. Their neighborhood is being destroyed by a highway construction project that is forcing their families to move away. But just two days before they must part ways, the boys begin receiving a strange series of signals on their phones. Convinced something bigger is going on, they team up with another school friend, Emma, and set out to look for the source of their phone signals. What they discover is something beyond their wildest imaginations: a small alien who has become stranded on Earth. In need of their help, the four friends come together to protect the alien and help him find his way home. This journey, full of wonder and adventure, is their story, and their secret. (c) Relativity
Critic Reviews for Earth to Echo
Audience Reviews for Earth to Echo
½
E.T. meets The Blair Witch, meets The Goonies in the bizarre family film Earth to Echo. The story follows a group of kids who are losing their homes to a land developer and decide to spend their last night together following a mysterious map that's been sent to their phones by an alien life-form who needs their help. Unfortunately the performances aren't very good, which makes it difficult to get invested in the characters. And the found-footage conceit doesn't work; as the whole thing feels especially contrived. Still, the storytelling is able to build some intrigue and does a few interesting things with its alien design/technology. Also, the CGI and special effects help to create impressive visual sequences that add some wonder to the adventure. But in the end, Earth to Echo is an underwhelming film that doesn't really go anywhere.
Dann Michalski
Super Reviewer
½
Imagine if E.T and Super 8 had a baby and this would be what comes of that very weird and awkward tryst. Thematically this is pretty much a ripoff of E.T all the way through. Kids find alien who just wants to make his way home. Things get complicated, of course, when they find out that the government is also after this alien and they fear they'd dissect their new alien friend alive to study him. So they're in a race against time in order to get their friend on his way home. Of course the settings and the situations themselves are different but, by and large, the main plot points follow E.T almost down to a T. To the point where I'm surprised Spielberg didn't sue for plagiarism. Of course Echo's filmmakers could argue that their film was inspired by E.T and point out several differences in the way the story is present, like the found footage style, for example and probably get away with it. I think that, partly, this was meant as a tribute to Spielberg's classic and it just comes across like it's shamelessly stealing from it. But I digress, this film isn't really as bad as it probably looked on paper, and when the first trailers came out. It's clear that this is meant for the preteen to early teen demographic, I mean it was clearly designed as such. Even with that, this movie is fairly average...almost good to be honest. I do not know what it lacked that would have made it truly good, but it was close to being. Perhaps if the characters had a little more depth, but at 90 minutes long, there's no real time for that. The only one with a real personality would have to be Munch, who's the obsessive-compulsive, neurotic one of the group. There's the foster kid, there's the cameraman, and the girl...the other characters' personalities boil down to this, they're just descriptions on a piece of paper. And it's not like Munch really has that much depth, he's just the most entertaining character in the film, but he's also pretty one-dimensional. With that said, I do think that the movie does a good job at highlight the friendship between these 4 kids, and Echo, and how that bond is sort of unbreakable, no matter how far they may be from each other. A little corny, yes, but it's still decent enough. And the casting was good, these 4 make a believable group of friends. It's not like the Apatow guys, or Simon Pegg and Nick Frost, where they're actually friends in real life, so it lends itself perfectly to their comedic chemistry, but they're still decent enough together. The design of Echo itself is clearly done so they could sell merchandise...he's way too cute for his own good. And I don't mean that as a positive. But, considering how much the movie cost to make, about $13 million, it makes sense that they'd want to turn Echo into a merchandising monster. I'm not sure if it worked, since this movie pretty much came and went, but at least they tried I guess. The special effects are pretty good considering the budget. I'm pretty sure there's some plot holes here and there, but every movie has them, even the classics, so as long as they don't make the film impossible to watch, then I'm good. Perhaps the most impressive thing about this movie is, after the movie ends, and before the credits roll, they show some photos of stars from earth and it looks absolutely outstanding, particularly on a HDTV. Whoever took these photos did an incredible job. It doesn't exactly affect my thoughts on the film, but the photos themselves are beautiful. This isn't near close to perfect, but it does offer a somewhat interesting diversion and it'll definitely hold the kids' attention for a couple of hours. This is a decent rental, since it offers nothing truly memorable, but it's certainly watchable.
Jesse Ortega
Super Reviewer
Not much redeeming for adults, this film is nonetheless terribly creative and should be viewed by imaginative children.
John Ballantine
Super Reviewer
Earth to Echo Quotes
| | |
| --- | --- |
| Tuck: | Having a friend light years away taught us that distance is just a state of mind. |
| | |
| --- | --- |
| Tuck: | Did your phone barf? |