Earthquake
(1974)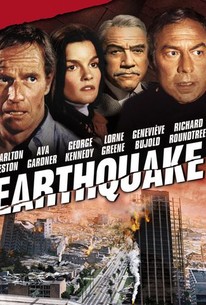 Movie Info
Los Angeles is the natural site for a film about earthquakes: they happen there frequently, and the landscape is familiar to moviegoers from thousands of films. A huge number of ongoing vignettes, which include cameos from numerous celebrities and stars are tied together by the ongoing efforts of architect Graff (Charlton Heston) to rescue his estranged spoiled-rich-girl wife (Ava Gardner), while helping out with the ongoing rescue efforts taking place around him and also trying to determine what has happened to his mistress Denise (Geneviève Bujold). The rumbling sound effect designed for this film (Sensurround) won a "Best Sound" Oscar for the film in 1975.
Critic Reviews for Earthquake
Audience Reviews for Earthquake
½
Decent disaster film, Earthquake continues the tradition of disaster films that became so popular during the early 70's, except now it's an earthquake that it's the disaster, and it is a film that is quite predictable in what the filmmakers try to do. The film has a good cast, but it never realizes anything truly entertaining, and quite frankly, of all the 70's era disaster films, Earthquake is among the weaker ones, With The Poseidon Adventure being the best of the genre. I really expected more out of the film, and though it was entertaining at times, the script's reliance on genre clichés really brought this one down a bit, and the performances were surprisingly average despite some very good talent attached to the project. This film might be enjoyed by fans of other disaster films of this period, but I've seen better overall and this one just doesn't end up being anything really good. Overall it's a decent affair that could have been much better. Earthquake doesn't break new ground in the genre; it does what every other disaster film has done, and it is fairly predictable. Don't go into this film expecting a truly entertaining film, this is no different than every other genre film, but the script suffers due to a lack of real tension, and the cast here just doesn't deliver anything that stands out among other genre films. I would recommend other films in the genre such as the one I stated earlier in this review. Earthquake could have been good fun, but it simply never really delivers anything truly entertaining, and overall the cast, despite having some good name here, are simply wasted on a lacking script. Earthquake isn't horrible, but it never is a good affair either. This is the type of film that you watch when you have nothing else to watch.
Drama ensues when the big one hits L.A. in this 1974 disaster flick featuring a cornucopia of Hollywood talent of which it can be summed up with that Walter Matthau used his family name in the credits, not his screen name. Its actually not as bad as your sneer ... well, it wasn't as bad as mine was. Why are they living on a fault line anyway? I saw it on AMC.
Kevin M. Williams
Super Reviewer
A highly typical disaster film from the mid 70s. Like the others it has a cast of recognizable celebrities, who don't get to do much else than be normal people. It doesn't really stand out as a good movie by any means, but it isn't bad either. There is some genuine suspense in the middle of it, anyway.
Earthquake Quotes
| | |
| --- | --- |
| Dr. Vance: | This used to be a helluva town, officer. |
| Chief Inspector: | Yeah. |
| | |
| --- | --- |
| Corry Marshall: | Where did Frank gifford sign? |
| Corry Marshall: | Where did Frank Gifford sign? |