Earthsea
(2004)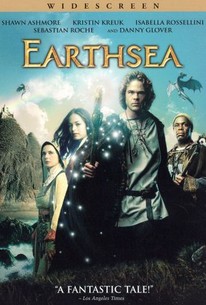 AUDIENCE SCORE
Critic Consensus: No consensus yet.
Movie Info
Lord of the Rings fans take note, acclaimed fantasy author Ursula K. Le Guin's epic tale of wizardry and prophecy comes to life as never before in director Robert Lieberman's imaginative screen adaptation of her popular Earthsea novels. Adapted for the Sci-Fi Channel, the two-part miniseries chronicles the journey of a reckless youth who seeks to master the ancient arts and become the most powerful sorcerer Earthsea has ever seen. As Ged (Shawn Ashmore) begins to discover the vast potential of his true powers, he must face great adversity if he is to truly fulfill his destiny and reunite his bitterly divided planet. Facing dragons, love, and eventually death itself, Ged's path to power is as wondrous and alluring as it is deadly. Also starring Isabella Rossellini, Danny Glover, and Kristin Kreuk (of TV's Smallville), this miniseries premiered in late 2004.
Critic Reviews for Earthsea
Audience Reviews for Earthsea
Dead Angel
Super Reviewer
More or less a Young Adults film, or those into The same sort of Magic as that displayed in harry Potter with a little more action. I am told this is based on a book series and that the book series is much better then the film. The Evil One was some of the best special effects until the last scene. Its quite long almost 3 hrs, and I think it was made for Sci-Fi Channel thought I am not sure of this. Its a good rental, but not a DVD I would go out and buy unless found at a pawn shop for $3.00 or less. 3 Stars is best I can give this one.
Bruce Bruce
Super Reviewer
Enchanting plot and re-watchable, definately. Interesting animation but unfortunately the dubbing and voice actors let it down considerably. I mean really, is that how they speak? But good none the less.
Alexander Wilson
Super Reviewer
Earthsea Quotes
There are no approved quotes yet for this movie.