Eastern Promises
(2007)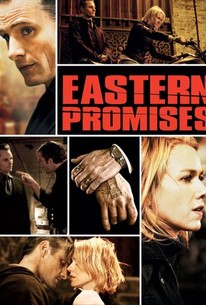 TOMATOMETER
AUDIENCE SCORE
Critic Consensus: David Cronenberg triumphs again, showcasing the Viggo Mortensen's onscreen prowess in a daring performance. Bearing the trademarks of psychological drama and gritty violence, Eastern Promises is a very compelling crime story.
Movie Info
Russian-born Nikolai Luzhin is a driver for one of London's most notorious organized crime families of Eastern European origin. The family itself is part of the Vory V Zakone criminal brotherhood. Headed by Semyon, whose courtly charm as the proprietor of the plush Trans-Siberian restaurant masks a cold and brutal core, the family's fortunes are tested by Semyon's volatile son and enforcer, Kirill, who is more tightly bound to Nikolai than to his own father. But Nikolai's existence is jarred once he crosses paths at Christmastime with Anna Khitrova, a midwife at a North London hospital. Anna is deeply affected by a young teenager who dies while giving birth to a baby. Anna resolves to try to trace the baby's lineage and relatives. Anna's mother Helen does not discourage her, but Anna's irascible Russian-born uncle Stepan urges caution. By delving into the diary, Anna accidentally unleashes the full fury of the Vory. With Semyon and Kirill closing ranks and Anna pressing her inquiries, Nikolai finds his loyalties divided. The family tightens its grip on him; who can, or should, he trust? Several lives--including his own--hang in the balance as a chain of murder, deceit and retribution reverberates through the darkest corners of both the family and London itself.
News & Interviews for Eastern Promises
Critic Reviews for Eastern Promises
Audience Reviews for Eastern Promises
With A History of Violence in 2005, David Cronenberg seemed to take his career in a more mainstream direction. It wasn't the horror or dark science fiction that many had come to know him by, but an arresting thriller that was actually based on a graphic novel. It was a big success and, two years later, led to Cronenberg sticking with his leading man Viggo Mortensen and attempting something similar with Eastern Promises. You could say that their second collaboration delivers something even more satisfying. Plot: Deeply affected by the death of a Russian teenager in childbirth, nurse Anna (Naomi Watts) takes it upon herself to find her family and save the baby from foster care. With access to the girl's diary, Anna is led to Semyon (Armin Mueller-Stahl), the owner of a Trans-Siberian restaurant. Semyon isn't the endearing character that he makes out, however, and the closer Anna gets to the girls story, the closer she gets to the enigmatic 'driver' Nikolai (Viggo Mortensen) and the bloody underworld of the Russian Mafia. When you think of a mob movie, your memory will most likely be jogged to the glamorously brutal Italian American variety. The obvious ones being the exemplary work of Scorsese's Goodfellas or Coppola's The Godfather. You may even consider the violent Cuban's of DePalma's Scarface and the Puerto Rican's of Carlito's Way or perhaps the Irish goons from The Coen brothers Miller's Crossing. With Eastern Promises, though, Cronenberg decides to focus on the Russian mafia operating from a restaurant in the drab, Hackney borough of London. Although it mines the same well as some of the aforementioned films, it feels like a fresh take on the mob movie, primarily because it's an ethnic group of mobsters that don't often get attention. Steven Knight's screenplay focuses on the murky world of people trafficking while exploring the tradition and initiation of Russian criminal codes. The gangsters of this story have to earn their positions and their stripes which are represented in tattoo form and by doing so, brings forth an genuine air of mystery and intrigue to the characters. This is the master stoke of the film. And Cronenberg knows it. He's not overly concerned with the plot itself. Sure, it plays out with a good degree of tension and more than holds your interest but the real draw here is what we don't see. It's the machinations of this criminal underworld and their untold code of ethics that intrigues the most. This is exemplified with some great performances; Naomi Watts delivers the perfect bewilderment of a women out of her depth and while I'm a huge fan of Vincent Cassel - and his loose-cannon, Kirill, gets a substantial amount to do here - even he isn't the standout. It's the unnerving work of Armin Mueller-Stahl who brings real gravitas as Semyon, the patriarchal head of the family and the quietly affecting, yet very intimidating, Viggo Mortensen who own this film. When we speak of mystery and intrigue, Mortensen's loyal driver Nikolai is the epitome of it. It's an absolutely captivating performance which rightly gained him his first (and long overdue) Oscar nomination with his involvement in a steam-room brawl worth the nomination alone. Where the film is slightly let down is in its rushed denouement. For the most part, it revels in a particular pace, but when it's drawing to a close it feels muddled and determined to finish within a particular running time. Up until then, however, it's a brutal and punishing crime yarn that hits many a strong note and breathes new life into the mob film. A viceral, stylish and compelling story that benefits greatly from masterful acting. It's arguably both Cronenberg and Mortensen's finest work. This Eastern themed film keeps good on its Promises. Mark Walker
Mark Walker
Super Reviewer
David Cronenberg being more famous for his body horror films crafts this stunning, riveting thriller with dramatic overtones. With a brilliant cast of actors, Cronenberg does a great job at crafting a stunning picture that proves that he is able to make something other than a horror film. I thought that this film was a far superior film than A History of Violence, which I couldn't get into. The film has a very good story that is complimented by the performances of its actors, and it's a movie that is steadily paced and takes it's time for the story to unfold, therefore it's a movie that you are invested it more often than not because you are hooked at will happen next. Cronenberg's direction is immaculate and he crafts a fine picture with Eastern Promises. This is a solid film that is sure to please fans of Cronenberg's work, even if it's not a horror film, which is what he's most famous for, Eastern Promises is a taut, exciting picture that steadily unravels before you, and you simply cannot look away as it's truly an intriguing picture from start to finish. With memorable performances from its cast, especially that of Viggo Mortensen in a finely tuned performance that is menacing, cold blooded, this ranks also as one of his most intense yet. Eastern Promises is a visceral Thriller that is both brutal and beautiful in the sense that what Cronenberg has created here is simply a superb piece of cinema. If you have a taste for something different, and love David Cronenberg, then you're sure going to enjoy this film. Everything that is presented on-screen is near perfection, and it ranks among Cronenberg's most memorable films in the last few years.
A solid gangster film with some fresh (and some cliched) messages. Viggo Mortensen has an intriguingly reserved performance that added a great deal to the film's effectiveness. Definitely worth seeing, even if it lacks some of the punch that the typical gangster film delivers.
Christian C
Super Reviewer
Eastern Promises Quotes
| | |
| --- | --- |
| Semyon: | [After rapping on a body stored in a freezer] Do you have hair dryer? |
| Semyon: | [after rapping on a body stored in a freezer] Do you have hair dryer? |
| | |
| --- | --- |
| Nikolai Luzhin: | Sometimes, if things are closed, you just, open them up. |
| | |
| --- | --- |
| Nikolai Luzhin: | I can't become king if someone else already sits on the throne. |